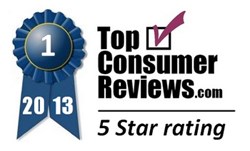 We're excited to receive TopConsumerReviews.com's highest rating... Thank you for recognizing our product as among the best in the market!
Overland Park, KS (PRWEB) October 11, 2013
TopConsumerReviews.com recently awarded their highest five-star rating to Ansr:Sole, an industry leader in callus removers.
"We're excited to receive TopConsumerReviews.com's highest rating," said Susan Taylor, Marketing Director at Ansr:Sole. "Our callus remover stands out from the crowd with its cordless, easy grip design that allows users to comfortably and effectively remove foot calluses with ease. The Ansr: Sole callus remover provides a powerful motor and generous sized polishing plates that work efficiently and effectively. Thank you for recognizing our product as among the best in the market!"
The cost and inconvenience of regular pedicures has driven many people to take care of their feet and toes from home. But, managing thick calluses on the heels and bottoms of feet are often the biggest challenge for most. A solution to eliminating stubborn calluses is the use of an electric callus remover that provides spa like results from the comfort of one's home. A number of callus removers are on the market today that deliver wonderful results and require little effort. When shopping for the right callus remover, the widest selection of products can be found online.
"Ansr:Sole provides the most powerful and comfortable callus remover we've found to smooth and soften feet," said Brian Dolezal of TopConsumerReviews.com, LLC. "Like many other customers, we found that Ansr:Sole is a great solution for maintaining beautiful, healthy feet at home. The "no mess" design and rechargeable battery allows people to polish and smooth their feet just about anywhere they like. If you're looking for an innovative, effective and convenient callus remover, Ansr:Sole is worth your consideration."
To find out more about Ansr:Sole and other Callus Removers, including reviews and comparison rankings, please visit the Callus Removers category of TopConsumerReviews.com at http://topconsumerreviews.com/callus-removers/.
About Ansr:Sole
The ANSR: SOLE callus remover is manufactured and distributed by Virtual Supply, an Inc. Magazine fastest growing company award winner. Sold online by top internet retailers, the product can also be found in exclusive spas and retail chains. In 2011, Virtual Supply co-branded the ANSR:SOLE, with "ANSR" a health and beauty product manufacturer.
About TopConsumerReviews.com
TopConsumerReviews.com, LLC is a leading provider of independent reviews and rankings of hundreds of consumer products and services. From callus removers to stretch marks and colon cleansers, TopConsumerReviews.com delivers in-depth product evaluations in order to make purchasing decisions easier.