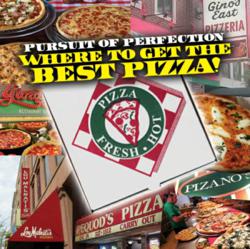 The Concierge pizza contest on Facebook runs until August 31st.
Chicago, IL (PRWEB) July 28, 2011
Chicago-style pizza has a reputation that is hard to beat anywhere else in the U.S., which is why finding the best pizza in Chicago can be a difficult task.
Thankfully, Concierge Preferred polled Chicago's pizza-loving concierge to see what Chicago-style pizza places they like best. The result? A comprehensive list of only the best, most authentic pizzerias the city has to offer. Concierge want you to have the final word in deciding once-and-for-all which Chicago pizza reigns supreme.
See what concierge think about the following places to get a slice of Chicago's best, and then go online to their Facebook Page to cast your vote on the best Chicago pizza. Voting on your favorite Chicago pizzeria can pay off, too, as it automatically enters you in a drawing for a chance to win a free iPad 2!
Chicago Deep Dish Pizza
Traditionally what people think of when they hear "Chicago-style pizza," Chicago's deep dish is anything but traditional. Far from the thin, lightly-sauced style of its Italian ancestor, Chicago deep dish is characterized by heavy, often buttery crust that climbs up the side of the pan to hold in layers of chunky sauce and lots of thick, melted cheese. A slice of deep-dish pizza at any of the following pizzerias will likely be upward of an inch thick and will leave any Chicago-style pizza lover reaching for more:
Gino's East — One of the most well-known of all Chicago-style pizza places. Gino's top-quality ingredients sit on a thick cornmeal crust baked in cast iron pans. Visitors to Gino's can add to the décor by adding their own contribution to the walls covered in past patrons' signatures.
Lou Malnati's Pizzeria — Home of the famous butter-flavored crust and signature pizza "The Lou," featuring fresh spinach, mushrooms, and sliced tomatoes, Lou Malnati's puts its own unique spin on a Chicago classic.
Giordano's — One of the first Chicago pizza places to serve stuffed pizza, which features an extra layer of crust just under the sauce that conceals a heavy pocket of cheese and toppings.
Pizano's Pizza & Pasta — Founded by the co-creator of deep-dish pizza's son, Pizano's received accolades as one of USA Today's "10 Best Pizzas in the Nation" and has been named one of Oprah's "favorite things".
Pizzeria Uno/Pizzeria Due — Home of the original Chicago-style deep dish, Pizzeria Uno changed the way America eats pizza.
Chicago Thin Crust Pizza
Not all Chicago pizza has to be deep dish. Chicago also has its own unique version of thin-crust pizza, set apart by its light and crispy crust, finely-pureed sauce with lots of herbs and seasonings, and a top layer of melted mozzarella. For concierge, there isn't a better thin-crust pizza to be found in the city than the following:
Pizano's Pizza & Pasta — Pizano's can also do thin-crust versions of your favorite deep-dish pizzas. Concierge can't get enough of Chad's Special Pizza, which is covered in BBQ chicken, BBQ sauce, and red onions.
Quartino Ristorante, Pizzeria, Wine Bar — Featuring thin-crust pizzas cooked to perfection in stone ovens, Quartino specializes in less-common toppings like veal meatballs, red chilies, grilled zucchini and wild arugula for a truly unique Chicago pizza.
La Madia — La Madia offers wood-fired pizzas with a huge selection of ingredients, as well as exclusive carry-out specials for those who want to enjoy their Chicago-style thin crust at home.
Giordano's — Thin crust or deep dish, you can't go wrong with Giordano's.
Aurelio's Pizza — Serving over 23 different varieties of pizza since 1959, Aurelio's sauce is slightly sweeter than some of the other pizzerias on this list, which is one of the things concierge and other loyal customers love about it.
Cast Your Vote For the Best Pizza in Chicago by Finding Concierge Preferred on Facebook
Try out the different pizzas on the concierges' list and decide for yourself who has the best Chicago pizza. Then join the thousands of other Chicago-style pizza lovers out there voting for their favorites on Facebook. In a city like Chicago there are seemingly endless options for great deep dish and thin crust, but only one can be named the top choice for Chicago's best pizza.
Whether you're looking for information on restaurants, shows, tours, Navy Pier, nightlife, or the best places to grab a Chicago slice, Concierge Preferred is your source for great things to do in Chicago. Visit them online for notifications on upcoming events or to find out what's happening in the city.
Vote here for your favorite Chicago pizza.
###