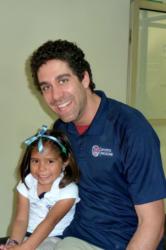 San Francisco, CA (PRWEB) April 05, 2013
ProActive Chiropractic's Dr. Andrew Cohen travelled abroad to Central Mexico with a Texas Rotary Club to provide medical care on a mission trip. Dr. Cohen and his group provided free care to impoverished communities.
This is Dr. Cohen's fourth trip abroad to provide medical care. Previously, Dr. Cohen made trips to India, Bali and Uganda with Arlington Academy of Hope, from the Washington, D.C. area. He also volunteers chiropractic care to the sports medicine tent at the Susan G. Koman three-day walk in San Francisco each year.
The trip took place in March as Dr. Cohen and his group spent a week in Piedras Negras. The group of 14 doctors and seven assistants helped approximately two thousand people over the length of the trip. Stressed on the trip was the holistic approach of using chiropractic adjustments and teaching the patients.
Chiropractors are ideal for a medical mission trip because they are low tech and get people out of pain quickly. They are experts at teaching exercises and stretches patients can do to stay healthy. People want to learn about what's causing their pain and what they can do to help prevent it from returning, which is what Dr. Cohen typically does in his San Francisco Financial District office.
Dr. Cohen is one of the few chiropractic doctors in San Francisco who has advanced training in treating complicated sports injuries. He is committed to helping athletes of all ability levels reach their goals. Dr. Cohen integrates chiropractic adjustments, applied kinesiology, orthotics, Kinesiotaping/Rock Taping, blood chemistry analysis, ergonomics, stress management, stretching and exercises to keep patients out of the doctor's office. He combines all of these tools into a holistic chiropractic treatment plan customized to each patient's unique needs.
For complete information about ProActive Chiropractic, visit their website at http://www.proactivesf.com.
About the company:
ProActive Chiropractic practices healthcare the old-fashioned way. Care is provided in the chiropractic office by doctors; not a machine, not an assistant, not a technician. Customers spend a minimum of 20 minutes of face-to-face time with Dr. Cohen, perhaps the best chiropractor in the Bay Area, at every appointment. He sees patients for low back pain, neck pain, shoulder dysfunction, knee complaints, ankle sprains, jaw pain and migraine headaches, just to name a few chief complaints.
For those unsure that ProActive Chiropractic's unique approach is the right avenue to take, consider their satisfaction guarantee. Their personal pledge assures that their customers are happy with their practice philosophy and approach. If customers are not completely satisfied following their first session, simply tell them at the end of the appointment and they will refund the money in full on the spot. For more information, please visit their website at http://www.ProActiveSF.com.