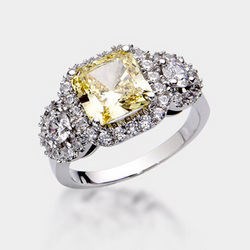 "Cubic zirconia wedding rings offer a wonderful value for couples. Our large selection of CZ jewelry offers brilliance, elegance and affordability for our clients."
New York, NY (PRWEB) March 17, 2010
Top quality cubic zirconia wedding rings, engagement rings and jewelry are a hot trend for the 2010 wedding season, according to the top cubic zirconia jewelry designer at Birkat Elyon.
Tough economic times, and tight credit are forcing couples to make careful choices about their wedding budgets. Some couples are re-examining the cost of traditional diamonds in their engagement and wedding rings. As a result, the best cubic zirconia has become a popular choice for couples who want the glamor and beauty of fine jewelry, but without the high cost. Traditional diamonds are much more expensive than top quality cubic zirconia – an important factor for couples who must deal with the spiraling costs of a wedding ceremony, reception and honeymoon.
Because of the extensive savings that couples enjoy with cubic zirconia wedding bands or cubic zirconia engagement rings, they can use the savings for other wedding expenses – such as a honeymoon or reception. "Cubic zirconia wedding rings offer a wonderful value for couples. Our large selection of CZ jewelry offers brilliance, elegance and affordability for our clients," says Rebecca Daniel, Senior Designer and Sales Director at Birkat Elyon in New York.
The affordability of high quality CZ puts it within reach of even bridesmaids and other wedding attendees. Birkat Elyon has also seen another trend in cubic zirconia jewelry: wedding party gifts. Now, couples are able to afford dazzling CZ gifts for wedding party members to thank them for sharing in the celebrations. Bridesmaids often wear matching pendants or earrings as a thoughtful gesture that makes for stylish wedding photographs. As gifts, quality cubic zirconia pendants, CZ earrings and bracelets are truly treasured by the bridesmaids, who can wear them long after the wedding. Brides and grooms frequently present their mothers with cubic zirconia necklaces to express their gratitude and appreciation. Among the popular choices for bridesmaids' gifts are cubic zirconia earrings, CZ pendants or CZ bracelets.
Brides and grooms have come to Birkat Elyon for over 20 years because of its reputation for designing the highest quality CZ wedding bands, CZ engagement rings and other CZ jewelry. Birkat Elyon offers only the best quality cubic zirconia that are rated 5A (AAAAA), which is the highest rating that CZ stones can receive. A high rating is required for the finer cuts seen in Birkat Elyon's jewelry creations.
As Senior CZ Jewelry Designer for Birkat Elyon, Rebecca works closely with an engaged couple as they select the perfect cubic zirconia wedding ring for the upcoming ceremony. Demand for cubic zirconia engagement and CZ wedding ring sets typically rises in the spring, as planning for the wedding season swings into action.
One of the most popular choices amid the wedding ring sets offered by Birkat Elyon are the fancy solitaire rings in 14K white gold and platinum. These are usually worn with a matching wedding band. Other popular wedding or engagement styles include: 3-stone, round and emerald cut rings. A popular choice amid cubic zirconia wedding bands] is the round-cut wedding band, which is a classic style that enhances the brilliance of the cubic zirconia diamond.
For a little bit of flash, some couples opt for a colored cubic zirconia diamonds. While traditional diamonds can also come in several colors – they do so at a significantly higher expense. Cubic zirconia gemstones offer a wider variety in colors at a much lower expense. Couples can pick cubic zirconia wedding bands or engagement rings in shades such as pink and yellow diamond-look.
Wedding costs now average more than $20,000, so couples are facing the hard reality of budgeting for their wedding celebration. However, making difficult financial choices can open the way for creative solutions – such as selecting quality cubic zirconia jewelry for the bride, as well as gifts for the wedding party. It's a trend that's spreading, as more couples realize the long-term value and advantages of cubic zirconia jewelry. A couple's love and the memories of the wedding should last forever, not the wedding event bills. It's easy to see why smart couples are choosing Birkat Elyon cubic zirconia rings!
About Birkat Elyon:
Birkat Elyon is an online luxury cubic zirconia jewelry manufacturer, specializing in 14K gold, 18K gold and platinum designs. Birkat Elyon has more than 20 years of CZ jewelry expertise. Located on Park Avenue in New York City, Birkat Elyon offers free wedding jewelry consultations for the selection of ready made designs, as well as for custom-made jewelry.
###