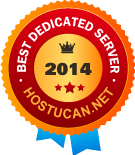 Singlehop - 2014 Best Dedicated Server Provider!
(PRWEB) April 10, 2014
HostUcan.net, an industry web hosting leader in web hosting review and search website, has officially awarded SingleHop as the "Best Dedicated Server Provider of 2014". This award is rated by HostUcans professional editors experience and over thousands of real user's reviews.
According to the statement from the Hostucan.net editors, SingleHop was awarded The Best Dedicated Server based on affordability, speed, security, reliability and excellent technical support team. To know the detail, please visit http://www.hostucan.net/company/singlehop.
SingleHop is one of the best dedicated server providers in the web hosting industry that was founded back in 2006. SingleHop offers their dedicated services in the Chicago, IL for more than 2,500 servers from 4 datacenters in Europe and the United States.
Dedicated hosting plans for SingleHop comes with many rich features that include Quad-Core i5-760 comes with Quad-Core 2.8GHz CPU, 5 IP Addresses , 16 GB RAM Storage, 2x500 GB, 10TB of bandwidth, Intel SSD hard drives, 100% Cisco powered network, Remote accessibility via LEAP, Enterprise-class hardware and many more.
SingleHop Dedicated server pricing starts from $159/month and higher for a total package, depending on customers' needs and how they want to customize their plan.
Customers can contact SingleHop Dedicated technical support team about issues and questions 24/7/365 via Toll-Free phone, and ticket management system via customers' LEAP control panel.
The SingleHop is all 100% US based SingleHop which means you will speak to a SingleHop Dedicated server expert in one their offices. SingleHop offers one of the best client-advantages SLA (Standard Level Agreement) in the web hosting industry.
SingleHop boasts and provides a 100% network and power uptime guarantee as part of its comprehensive Customer Bill of Rights Service Level Agreement.
HostUcan.net is an independent web hosting search and review platform and their mission is to help webmasters find the most suitable web hosting solutions and promotions. So if you need assistance for your web hosting please visit http://www.hostucan.net or check out http://www.hostucan.net/dedicated-server.