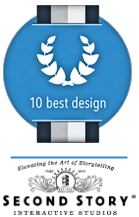 Portland, Oregon (PRWEB) June 17, 2013
When it comes to recognizing the best in web design and development, it would be difficult to beat the expertise of 10 Best Design. The top web development companies from all across the country are analyzed and compared in all aspects by an incredibly knowledgeable panel of industry specialists. With unparalleled experience in the fields of web design, search engine optimization and online branding, this team of experts is uniquely qualified to identify the country's best design firm.
You may be wondering how 10 Best Design manages to achieve a meaningful comparison on such a large scale. It is made possible by an analytical review system through which ranking points are awarded to the companies registered in the 10 Best Design directory. Web development companies are assessed by taking many different factors about their performance into account. Factors taken into consideration by 10 Best Design are website traffic data, SEO effectiveness, reviews and a combination of online and client research. When considered together, all of these factors combine to give a general picture of a web design company's performance. When the companies are then compared, the best design agency overall at that time, emerges at the top of the list.
10 Best Design presents awards on the basis of these results, publishing a top ten list each month. For June, 6th place in the country-wide search for the best design firm was taken by Second Story of Portland, Oregon. A self-styled "interactive studio," Second Story excels in providing social, online and interactive multimedia experiences. After years of development in the realm of interactive web technologies, the company was uniquely placed to assist museums and cultural institutions, bringing their exhibitions and installations to life. Second Story has provided increasingly sophisticated strategies to enhance the experiences of visitors to museums including the Smithsonian. The interfaces for instruments like touch-screen kiosks are powerful multimedia tools and Second Story leads the way in creating them. It is by no means a typical web design firm, but a creative crucible where ideas and technology are married together.
Companies who wish to be considered for awards presented by 10 Best Design are able to submit details of their work on the 10 Best Design website. They are looked at closely by experts who assess whether or not the firm should be entered into the country-wide directory listing the best design agencies. If they are included, they are then eligible to be ranked in the monthly lists. 10 Best Design does not only hand out overall design awards, but awards for firms who have designed excellent websites for particular industries and niches. For example, ranked lists are created for websites specific to travel, food and beverage and entertainment to name but a few of the categories covered.
So with such a comprehensive and detailed overview of the web design landscape, including detailed knowledge of the country's best firms in the field, 10 Best Design is uniquely positioned to identify new and vibrant talent in web development.