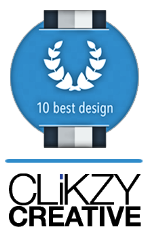 Alexandria, Virginia (PRWEB) June 10, 2013
10 Best Design has developed a sophisticated analytic review system to rank the best design firms according to website traffic, SEO data and reviews alongside other sources of information such as client and online research. The subsequent awards which are presented based on their findings are gaining a reputation as THE accolades to have in the field. Best design awards are available in various niches, where websites created for similar industries are compared to find the best design in a given category. These categories are wide in scope and include, amongst others, ecommerce, architecture, entertainment, blog, travel and non-profit websites.
In its most recent round of awards, 10 Best Design ranked the best design firms using its multi-faceted review algorithm and Clikzy Creative, based in Washington, DC, was ranked number one and best design firm overall for the month of June. Clikzy has provided its clients with a dynamic web design service for eight years. They work closely with their clients, adopting a highly strategic and collaborative approach in order to analyze their needs and supply creative yet practical solutions. The results have been exceptional. Clikzy Creative complements their strength and skill in creating visually outstanding websites with equal emphasis on developing a strong internet presence for their client. Expertise in search engine optimization, e-mail and online marketing, social media and landing page quality all come together to enhance their core design abilities and make their sites among the most impressive on the web. Clikzy Creative takes care of a client from the initial concept to a fully functioning, standout website, and every step in between.
In its efforts to create a country-wide directory listing the best design firms and leading companies in web development, 10 Best Design invites companies to apply via its website. When a firm submits an application, only after careful consideration is that firm entered into the directory and then eligible to receive awards. It is not surprising that the 10 Best Design stamp of approval is being eagerly sought by companies aiming to raise their profile and propel their business forward.