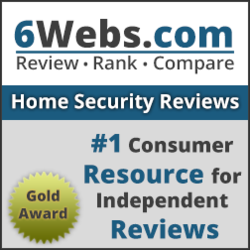 Compare the top rated DIY home security system companies on 6Webs.com.
Corpus Christi, TX (PRWEB) May 19, 2013
6Webs.com is the leader in reviews of home security systems companies. Homeowners who are considering an alarm system can do a comparison of the options and services of the nation's leading security system providers online at 6Webs.com. Just recently finishing the home security systems reviews the best DIY home security system companies, 6Webs.com currently is announcing the final results. Every year 6Webs.com reviews dozens of home security companies before ranking the home security system providers according to several key aspects.
Tim Smythe from 6Webs.com says, "DIY or Do-it-Yourself home security systems are becoming increasingly popular as they are very simple to install. The typical installation takes less than 15 minutes and the home security systems are pre-configured before being shipped to the customers home. This turns the activation process into a simple phone call after installing the peel-n-stick home security sensors on the windows and entrance ways. "
FrontPoint Security was awarded as the best DIY home security system company. FrontPoint Security provides great service to their customers and offers a 30-day money back guarantee. Keeping customer service and satisfaction at the top of their priority list is making FrontPoint Security the top pick among consumers. FrontPoint Security's DIY home security system is 100% wireless and comes with cellular-based monitoring services which is recommended by the 6Webs.com home security staff. The runner-up for the best DIY home security system company is Protect America. Protect America recently celebrated 20 years in the home security industry and offers their customers a range of DIY home security systems and equipment from GE Security.
6Webs.com discovered that mobile features were a significant deciding factor when consumers were purchasing a DIY home security system. The ability to remotely arm and disarm the home security system as well as receive notifications via text or email when events occur in the home are appealing to customers looking for a DIY home security system. To look at the features and the services of the top rated home security system companies visit 6Webs.com at:
6Webs.com - Residential Security Systems
About 6Webs.com
6Webs.com focuses on providing consumers with independent home security systems reviews. 6Webs.com supplies side by side comparisons in an simple to use format so consumers can easily find the details they are trying to find. Focusing on providing independent reviews and side by side comparisons, 6Webs.com also releases informative advice related to home security and safety to help families lead a safer and more secure lifestyle. Visit 6Webs.com for the latest comparisons and reviews of the top security system providers.