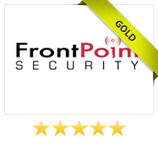 By far a favorite among our experts, the DIY home security systems from FrontPoint Security are the industry leading solution.
San Francisco, CA (PRWEB) February 27, 2013
SecuritySystemReviews.com has released its latest list of the Best Do It Yourself Home Security Systems in the country today and included in the list is FrontPoint Security. The home security provider has been ranked as the best company on the list, beating out a number of other security systems. According to the leading home security system reviews site, FrontPoint offers easy to install systems and great customer service.
DIY security systems have taken over the industry in recent years; this is mainly because of its affordability. Without the need for professional installers and bulky equipment, security systems providers have been able to lower the prices of their services. Because of this, more and more companies have entered the market offering easy to set-up DIY security systems. However, among all these brands, only a few have proven to be truly user-friendly; among these companies, FrontPoint has emerged at the top.
According to SecuritySystemReviews.com's FrontPoint Security review, the security system company offers 100% cellular monitoring, home automation and mobile and online access—all in an easy to install, do it yourself method. The company offers one of the easiest processes for consumer to finally employ a security system for their homes. FrontPoint offers consumers a free consultation with their security experts to find out which will be the best security system for their homes. It will then pre-program the system for its client and have it shipped at their doorstep for no extra charge. Each package comes with a simple, easy to follow set up guide so consumers can work on their security systems with ease.
FrontPoint Security has also partnered with General Electric (GE) to supply all its wireless security system equipment needs. The security system uses GE's Simon XT Control Panel, one of the latest devices in the industry and is both hassle free to set up and easy to use. All wireless sensors are "peel and place" for easy installation. After placement has been done, clients only have to call the service provider and the security systems will be up and running in less than an hour.
The security system company also offers a 30-day Risk Free trial period. This provides customers a chance to get their money back within the first month if they are unsatisfied with the system. FrontPoint also offers a free two-year warranty service on all of its equipment, offering its clients a better peace of mind.
To learn more about FrontPoint Security's DIY systems or know more about other security system reviews, visit securitysystemreviews.com.
About SecuritySystemReviews.com
A website dedicated to offering up-to-date news and reviews about home security systems. Headed by a team of experts and professionals with extensive years of experience, the site provides research-based information and factual studies about the latest systems, services and companies in the industry. The site hopes that through its content consumers may be informed of the best security systems to employ for their homes and businesses.