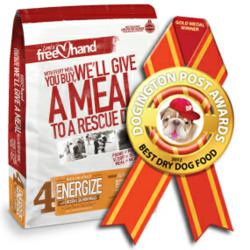 Nominating them was a no-brainer. But, it was FreeHand's loyal fans and happy customers that brought the prize home to them.
Boca Raton, FL (PRWEB) February 05, 2013
As part of a larger initiative to educate dog owners on proper nutrition, effective training, and other ways to raise a happy and healthy dog, the Dogington Post reviewed products, toys, food, treats and trainers for their first annual Dogington Post Awards of 2012.
"We used strict criteria when nominating companies and products for these awards," explained Brandy Arnold, Content Editor for Dogington Post. "Our Best Dry Dog Food nominees all manufacture their food in the USA with locally sourced ingredients. They have a proven track record of safety and high standards of nutrition. We nominated companies that put our dogs' health first."
Readers and fans voted for the Best Dry Dog Food and chose FreeHand™ as their favorite.
FreeHand is a mission-driven, super premium dry dog food company conceived out of social activism with a fierce dedication to both providing dogs with the highest quality food and, in the process, saving the lives of abandoned dogs in the communities where their products are sold. For each bag of dog food purchased, FreeHand donates an equal amount of dog food to shelters and rescues. With four top-quality, U.S. made, deliciously nutritious recipes, pet parents are guaranteed to find a FreeHand food that perfectly suits their own dog's palate, size, and energy level.
Since their launch in June, FreeHand - through the efforts of resellers, veterinarians, fans and friends – has supplied more than 16,000 pounds, or 46,000 meals, to homeless dogs in their U.S. market areas.
"We are proud to announce FreeHand as the gold medal winner in our Best Dry Dog Food category," said Arnold. "Between their philosophy of providing our own pets with the absolute best in nutrition and their dedication to animal welfare, nominating them was a no-brainer. But, it was FreeHand's loyal fans and happy customers that brought the prize home to them."
"We recognize the significance of this award from the readers of The Dogington Post - and we are honored to have been nominated over the hundreds of other pet foods in the market, many of which are well established and well financed brands. This proves the most important point of all - that dog owners buy our product because it is good for their dogs as well as for the lives of rescue dogs in their communities," explained Tom Bagamane, FreeHand's Managing Director and Co-founder.
Dogington Post reaches over 2.5 million dog lovers each week. The site's readers were asked to vote for their favorite dry dog food in an online contest that ran for two weeks in January 2013.
For more information about Dogington Post and their Dogington Post Awards, visit http://dogingtonpost.com.
About Dogington Post:
DogingtonPost.com was created for the love of dogs. It promises a forum of informative articles, newsworthy dog stories, health and breed information, and heartwarming videos. The site addresses current issues affecting dogs and their human parents – from serious health concerns to lifestyle issues on feeding, grooming and the overall well-being and mental health of dogs. It is the Internet newspaper, all about dogs.
About FreeHand
Based in Los Angeles, FreeHand™ is a super-premium pet food company committed to "conscious consumerism" and helping save homeless dogs' lives. What differentiates FreeHand from the "competition": (1) it is the only pet food company whose strategy was conceived entirely out of "product activism," specifically a mission of helping save dogs' lives; (2) the superior quality of FreeHand's super-premium pet foods; and (3) the company's innovative "Communal Business Model" – including "The New Bottom Line" – that drives and directs its efforts.
The company's pound for pound, scoop for scoop, meal for meal™ donation program is facilitated through a novel, buy-one-give-one initiative in which for every pound of dog food sold, FreeHand – through its resellers (retail stores and ancillary pet service providers such as dog groomers, daycare, sitters and walkers) and veterinarians – will give an equal amount of food to a local rescue organization or shelter. FreeHand products are available for purchase online and at independent resellers in the Southern California, Austin, Dallas-Fort Worth, Indianapolis and Las Vegas areas. They have recently expanded to Littleton, CO and New Windsor, NY with plans to expand to metropolitan New York City in the coming weeks.
For more information, please visit http://www.LendaFreeHand.com, Facebook or Twitter.