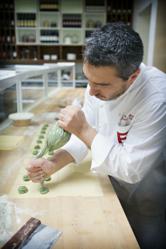 With its attention to lighting and unique architectural elements, there is a lot for the eye to love at FARINA. But the décor is nothing compared to how FARINA makes guests feel on the inside once they taste our fine Italian dishes.
San Francisco, CA (Vocus/PRWEB) April 21, 2011
No one celebrates Easter like Italy, the most Catholic country in Europe. And no one celebrates Easter in San Francisco like FARINA. The fine Italian restaurant, known for its amazing attention to every detail in food preparation and architecture, will serve traditional Italian Easter specialties Good Friday to Easter Sunday, April 22 to 24, 2011.
"With its attention to lighting and unique architectural elements, such as the repurposed marble basin counters and 1940's industrial details, there is a lot for the eye to love at FARINA," said Kim Grijalva creative director at FARINA. "But the décor is nothing compared to how FARINA makes guests feel on the inside once they taste our fine Italian dishes."
This year FARINA is featuring a very special Easter menu from Good Friday through Easter Sunday. The hours are 5 pm to 10 pm on Friday through Sunday for dinner and Easter brunch hours are 11 am to 3pm on Sunday. In addition to the special Easter menu the regular a la carte menu will also be available.
FARINA's special Easter weekend menu items include:
PRIMI PIATTI
Raviolini alla Genovese con il tocco
Raviolini stuffed with cheese, borage and meat sauce
Wine Pairing: Giardino Aglianico — This is the perfect rustic wine to be poured alongside what many on FARINA's staff feel is its finest creation: Raviolini.
Taglierini Verde al Sugo di Funghi
Green taglierini with sweet breads, marjoram and dried porcini mushroom sauce
Wine Pairing: Bisson Pigato — The quintessential Ligurian white wine is the perfect mate for this quintessential Ligurian pasta dish.
SECONDI PIATTI
Torta Pasqualina*
Torta made with artichoke, erbettae chard, ricotta, parmigiana and eggs.
Wine Pairing: Casa Coste Piane Prosecco sur-lie — This wine is bottled unfiltered and w/ minimal sulfur so it remains identical to how it tastes when you drink it fresh in Italy.
Cima all Genovese*
Veal stuffed with sweet breads, eggs, parmigiana, marjoram and pistachio di Bronte.
Wine Pairing: Dashe Cellars Riesling — Its blast of acidity with a small touch of sweetness keeps this rich dish, the Cima, from overwhelming and fatiguing the palate.
Cosciatto d' Agnello con Carciofi*
Braised lamb shank with artichoke, mint, garlic, rosemary and white wine.
Wine Pairing: Marengo Nebbiolo d'Alba — Its clean and refreshing, and simply demands rich food to accompany it.
Dentice all aglio dolce e pesto di pistacchi
Wild snapper fillet cooked in parchment paper and served with sweet garlic sauce and pistachio pesto.
Baccala al verde con patate novelle
Salt Cod with virgin olive oil with new potatoes.
DOLCI
Pasticceria Napoletana*
Traditional Napoletana layered cake made with orange water, ricotta and candied fruit.
Colomba Tradizionale*
Traditional sweet angel cake shaped like a dove, made with almonds, candied fruit and served with a warm chocolate drizzle.
Chocolate Log*
A classic Italian dolci: a thin layer of moist chocolate cake rolled with a layer of chocolate and decorated with chocolate details.
*indicates menu items available during Sunday brunch.
About Easter in Italy
On Good Friday, the Pope celebrates the Via Crucis in Rome near the Colosseum. A huge cross with burning torches lights the sky as the stations of the cross are described in several languages. At the end, the Pope gives a blessing.
In many towns across Italy solemn religious processions are held on the Friday or Saturday before Easter. Many churches have special statues of the Virgin Mary and Jesus that are paraded through the city or displayed in the main square. Parade participants are often dressed in traditional ancient costumes, and olive branches and palm fronds grace the processions and churches.
Since Easter, or Pasqua in Italian, is also the end of Lent, food plays a big part in the celebrations. Traditional Easter foods include lamb or goat, artichokes and special Easter breads that vary from region to region. Pannetone and Colomba (dove shaped) breads are often given as gifts, as are large hollow chocolate eggs that often contain a surprise inside.
For more information about Easter weekend dining at FARINA, call (415) 565-0360 or visit them on the web at http://www.FARINA-foods.com/menu.php?url=easter.
About FARINA
FARINA is a San Francisco Italian restaurant that specializes in traditional Northern Italian, Ligurian cuisine. Grounded in tradition, FARINA is the antithesis of faddish here-today-gone-tomorrow hip food. From the chic yet functional design of the San Francisco Mission District restaurant to the homegrown recipes Chef Laboa learned at his grandmother's side to the infinite well of ideas that spring from its founders—FARINA is redefining Italian dining in San Francisco.
# # #