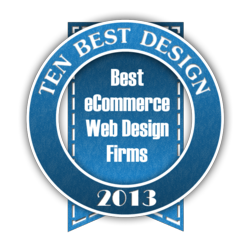 Finding the best creative web designer is not the same as finding the best ecommerce web designer.
San Diego, California (PRWEB) May 17, 2013
10 Best Design has grown from a single list of the top web designers to one of the most prominent ranking and awards organizations for web design companies in the entire world. Its awards have been featured on prominent publications from coast to coast and around the globe. The 10BD team believes that expanding the scope of the 10 Best Design website will help it reach an even larger audience while simultaneously improving the ability of the site to provide the very best for each specific type of web design project.
10 Best Design was first created when its founders noticed that the quality of the websites being produced and the potential of the technology available did not match up. They decided that there had to be a way to help web design consumers through the process of picking a web design company. From there it grew to become a recognizable name in the web design industry.
The 10 Best Design team also realized that finding the best creative web designer is not the same as finding the best ecommerce web designer, thus the Best eCommerce Web Design Firms Awards were born.
The inaugural winner of 10BD's Best eCommerce Web Design Firms is RazorIT. RazorIT has previously been named among 10 Best Design overall best firms, but this award identifies them as a company which can provide high-quality, e-commerce specific services. RazorIT is based in Syracuse, New York.
Hudson Horizons is a close runner-up coming in as the second of the 10 Best eCommerce Web Design Companies. Hudson Horizons has won its very first 10 Best Design web design award in this second place ranking. Though new to 10BD, Hudson Horizons has been recognized by a large number of other organizations for excellence in the field of web design.
In third, Vento Solutions makes another appearance as one of the best the web design industry has to offer. Vento has won a number of 10 Best Design awards, including the current overall #1 Best Web Design Firm. This company has also won awards from organizations all over the internet, such as the #1 Best Website Development Company according to site The-Top-Tens.com.
The fourth best ecommerce web design firm is Cazarin. Cazarin is another multi-award winner within the 10 Best Design network. Cazarin is honored as the fourth best ecommerce web design firm for superior work within the ecommerce industry.
The full list of Best eCommerce Web Design Firms is as Follows:
1. RazorIT (Syracuse, New York)
2. Hudson Horizons (Saddle Brook, New Jersey)
3. Vento Solutions (New York, New York & San Francisco, California)
4. Cazarin (Minneapolis, Minnesota)
5. Border7 (Simi Valley, California)
6. My Web Wow (Columbus, Ohio)
7. Cofa Media (San Diego, California & Los Angeles, California)
8. Skuba Design (New Orleans, Louisiana)
9. ScriptiLabs (Austin, Texas)
10. Simple Flame (Saint Charles, Missouri)