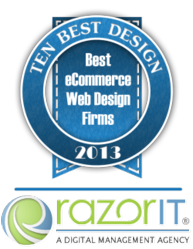 Syracuse, New York (PRWEB) May 20, 2013
10 Best Design originated from its founders' desire to bridge the gap between the capabilities of advanced design and development technologies and the actual web designs being produced by web solutions companies. Their awards have since blossomed into one of the largest, yet still fastest growing web design firm awards online, and as a result of this, 10BD has begun to expand their operations into a variety of new, category specific web design firms awards. This month, they have added top rankings for eCommerce Web Design Firms.
In fact, 10 Best Design has been increasing in web traffic at a compounded rate of nearly 30% per month for the last 5 months.
"We've experienced such incredible growth 'cause our awards are the best," said a 10 Best Design spokesperson.
The winners of the Best eCommerce Web Design Firms are as follows:
1. RazorIT (Syracuse, New York)
2. Hudson Horizons (Saddle Brook, New Jersey)
3. Vento Solutions (New York, New York & San Francisco, California)
4. Cazarin (Minneapolis, Minnesota)
5. Border7 (Simi Valley, California)
6. My Web Wow (Columbus, Ohio)
7. Cofa Media (San Diego, California & Los Angeles, California)
8. Skuba Design (New Orleans, Louisiana)
9. ScriptiLabs (Austin, Texas)
10. Simple Flame (Saint Charles, Missouri)
This month's top ecommerce company, RazorIT, is a sophisticated web design agency which has a track record for providing superior service. They have won multiply 10 Best Design awards, and they are dedicated to a number of different types of development. Recent work in the field of online shopping has allowed RazorIT to receive an award for being the Best eCommerce Web Design Firm.
RazorIT believes that there is something special about each ecommerce business, and it is their job to help their clients let the world know what it is.