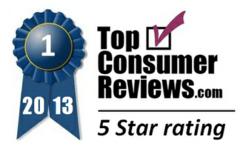 Each year TopConsumerReviews.com issues a review of the best elliptical machines available.
New York, NY (PRWEB) April 26, 2013
TopConsumerReviews.com announces the top residential elliptical machines for 2013. TopConsumerReviews.com provides independent reviews for thousands of products including elliptical machines in order to help consumers make well informed decisions.
Each year TopConsumerReviews.com issues a review of the best elliptical machines available. This year is no different as they have recently concluded their analysis and have revealed the best elliptical machines for home use in 2013. Some of these elliptical machine companies include the following.
Yowza Fitness is taking the fitness market by storm. Unlike many other companies, Yowza focuses on quality manufacturing practices. This means the consumer receives a higher level of reliability and durability by choosing a Yowza product. Yowza Fitness is able to offer their elliptical machines at consumer friendly prices due to a direct sales approach. These machines incorporate features that are in demand along with a strong return policy and warranty should something come up.
Sole Fitness elliptical machines are built to last. These machines are designed and manufactured with a high level of quality in mind - to provide durability and a smooth ride. These elliptical function in both forward and reverse motion with plenty of resistance on the top end. Sole Fitness provides nice features such as a heart rate monitor, power incline, built in fan and more. The Sole Fitness products are manufactured to last but are value priced. Each machine comes with a warranty covering 5 years on parts and 2 years on in-home labor.
Smooth Fitness provides a durable elliptical machine for a fair price. This company excels at manufacturing a comfortable, sturdy machine that is completely adjustable to provide the best, most comfortable fit for the whole family. Smooth Fitness does a good job of providing popular features in their current machines, such as a speaker system, oversized and comfortable foot pedals, a number of preprogrammed workouts, speed monitoring and more. The 30 day money back guarantee allows customers to try a Smooth Fitness elliptical machine with little risk.
LifeCORE recently started manufacturing their own elliptical machines and quality is a focus at this company. The offer a smaller selection but attempt to cater to the spectrum of shoppers. Good quality, nice features and a comfortable ride are fair descriptions of the LifeCORE products. Included with each elliptical purchase is a 5 year warranty on parts and 1 year on labor should something occur with the equipment.
Sports Art Fitness has been in the fitness manufacturing business for over 30 years and has established themselves as a leader in high end commercial and residential exercise products. Standard features are found on most of their machines and include an adjustable stride option, pedal cushioning, heart rate monitor, and preprogrammed workouts. The warranty plans vary by model but are more generous than most. The commercial built quality of the Sports Art elliptical machines comes at a price that may break the bank for some.
To find out more about elliptical machines, including reviews and comparison rankings, please visit the Elliptical Machines category of TopConsumerReviews.com at http://www.topconsumerreviews.com/elliptical-machines/
About TopConsumerReviews.com
TopConsumerReviews.com, LLC is a leading provider of independent reviews and rankings for thousands of consumer products and services. They offer the latest on Elliptical Machines including information, education, and ratings for the best elliptical machines available today.