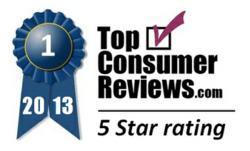 Each year TopConsumerReviews.com carefully investigates a number of elliptical machines to help exercisers choose the best equipment for their specific needs.
Los Angeles, CA (PRWEB) April 05, 2013
TopConsumerReviews.com reveals the best picks in elliptical machines for 2013.
TopConsumerReviews.com provides independent reviews for thousands of products including elliptical machines in order to help consumers make well informed decisions.
The fitness equipment market is saturated with hundreds of elliptical machine models. Finding the right elliptical machine brand and model is important in getting the best value for the money. Also, an elliptical machine that is designed for a person's specific height and weight is going to run smoother, feel stable and perform the best. Each year TopConsumerReviews.com carefully investigates a number of elliptical machines to help exercisers choose the best equipment for their specific needs. While many elliptical machines offer appear similar in features and warranties, the fine details often make one a better purchase over the other.
Brian Dolezal of TopConsumerReviews.com explains, "We all want to get into better shape, and buying an elliptical machine for home use is a great way to meet your fitness goals. These machines aren't cheap, though, and finding the best quality and best value in an elliptical machine that meets your budget can be tricky. We at TopConsumerReviews.com do much of the analysis work by closely reviewing several elliptical machine companies at once. The ultimate decision is up to the customer, of course, but we hope our research and independent reviews will help them feel confident in their elliptical machine purchase."
Yowza elliptical machines have become very popular in the fitness world due to their exceptional quality and value pricing. These machines incorporate features that are in demand along with a strong return policy and warranty should something come up or the buyer changes their mind. People can feel good that the Yowza Fitness products are manufactured with an environmentally friendly process. For those people looking for a great quality, well priced elliptical machine, Yowza is an excellent choice.
Sole Fitness elliptical machines are built to last. Customers can expect a quiet and smooth ride, a heavy flywheel, durable and quiet machines that ideal for a great workout at home. These are heavy duty elliptical machines with nice features such as a heart rate monitor, power incline, built in fan and more. The Sole Fitness products are built to last but are value priced. Each machine comes with a warranty covering 5 years on parts and 2 years on in-home labor. For those in the market for a quality elliptical machine at an affordable price, Sole Fitness delivers.
To find out more about elliptical machines, including reviews and comparison rankings, please visit the Elliptical Machines category of TopConsumerReviews.com at http://www.topconsumerreviews.com/elliptical-machines/
About TopConsumerReviews.com
TopConsumerReviews.com, LLC is a leading provider of independent reviews and rankings for thousands of consumer products and services. They offer the latest on Elliptical Machines including information, education, and ratings for the best elliptical machines available today.