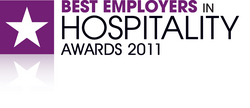 These awards are a fantastic opportunity that employers shouldn't miss
(PRWEB) March 24, 2011
The Caterer.com Best Employers in Hospitality awards so far have attracted interest from leading industry names such as Hilton, Orient-Express, The Ritz, Giraffe and Cote Restaurants, as well as smaller businesses from across England, Scotland and Wales who are able to enter the independent categories.
With only a few weeks remaining before the deadline for England and Wales entries on 15th April, businesses are ensuring they enter early so they leave enough time for employees to complete the employee engagement survey before the cut-off.
Entry into the awards - run in partnership with employee engagement specialist, learnpurple - is free. Businesses simply enter online at http://www.bestemployersinhospitality.com and will be emailed a survey link which they can circulate to their employees for completion online. The learnpurple survey ranks all entrants based on their responses. This creates the Best Employers in Hospitality Top 30 league table, and highlights a winner for each of the award categories.
The London awards will take place in May 2011 with the Scotland awards taking place in Edinburgh in September. Scottish businesses have a bit more time to enter with an entry deadline of 29th July. However, as Caterer.com's Kathy Dyball says: "Businesses should enter sooner rather than later, given that they need to ensure at least 30% of their employees complete the survey by the deadline in order to qualify for entry. These awards are a fantastic opportunity that employers shouldn't miss".
The awards were launched in Scotland last year and attracted significant interest, with entries from hotels, restaurants, pubs, bars, caterers and suppliers to the industry. This year the awards have been extended to England and Wales with separate awards ceremonies taking place for each. Caterer.com is also seeking entries from venues, visitor attractions and tour operators who have been given a dedicated category.
Nick Gourley from Blue Arrow Catering and BLEND Permanent Recruitment Services, sponsor of Best Group Contract Caterer Employer category said:
"These awards allow employees, the people that matter, to shout about why the company they work for is one of the 'best'. These leading employers deserve to be recognised and rewarded as shining examples of companies who got their people strategy just right."
Last years Best Employers in Hospitality winners included overall winners Hudsons Catering, with category awards going to Xpress Recruitment, M&D's Scotland's Theme Park, Ask Restaurants, Orchid Group, Prestige Scotland, Marriott, The Horseshoe Inn and the Majestic Line.
Any UK hospitality business, large or small, can enter the awards for free at http://www.bestemployersinhospitality.com.
###