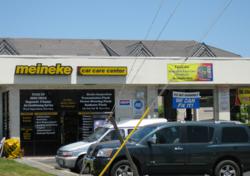 FaceLube is built from the ground up for masculine men. He's entitled to high-performance men's skin care and grooming products that are aligned with his masculine nature and available at retail environments that are comfortable for and familiar to him
Los Angeles, CA (PRWEB) July 14, 2011
FaceLube masculine men's grooming and skin care line is hitting retail shelves this summer, but not the typical beauty aisle and department store counters where women congregate in hoards. In a bold and unprecedented move, FaceLube stakes its claim where masculine men hang out – encompassing all things automotive - from neighborhood quick oil change centers to new car dealerships where masculine men go to pamper his ride and 'Put His Face on a Maintenance Schedule'.
The makers of FaceLube debut the world's first line of masculine men's skin care and anti-aging products. Using no traditional female-centric beauty terms, FaceLube is designed to blend into the automotive environment. FaceLube has a story like no other. Candace Chen, founder of FaceLube, has 20 years in the automotive industry, a highly testosterone driven environment where she learned about the unique relationship between men and their rides.
Consumers who come across the FaceLube display in automotive locations often do a double take at FaceLube's package which resembles a high-end synthetic motor oil bottle. Indeed, the FaceLube logo resembles a motor oil spot, while the FaceLube product video is reminiscent of luxury car care commercials. According to Chen, "FaceLube is built from the ground up for masculine men. Men's motivation for taking care of their skin is different than women's. Proper masculine men's skin care isn't about looking pretty or young – it's about looking good, for that extra edge over the competition. He's entitled to high-performance men's skin care and grooming products that are aligned with his masculine nature and available at retail environments that are comfortable for and familiar to him".
The beauty industry has historically found it difficult to dispel the social stigma attached to the use of beauty products as a female ritual. Educating men about the need for proper skin care routine continues to be a daunting task, because many men are uncomfortable shopping for men's grooming products at female-centric retail locations. However, the prevalent beauty industry belief is that men need to change – to embrace feminine beauty ideals and products that are intrinsically female except for the 'for men' designation on the bottle. Countless marketing dollars have gone toward perpetuating the metrosexual male image, complete with his acceptance of traditionally feminine beauty rituals.
"FaceLube disagrees with the beauty industry's marketing approach to men", states Chen. "High-end men's skin care products shouldn't follow the same premise as women's; that to perpetuate their high-end-luxury image, the best face creams should only be sold at department stores and major beauty retailers. FaceLube makes high-end men's skin care products readily available to the public at retail locations where masculine men are comfortable shopping. FaceLube offers exceptional value for their money by cutting out fancy department store overhead and ad campaigns designed to help him get in touch with his inner feminine side." Judging by FaceLube's Amazon user reviews and Facebook following, the fans agree.
Another popular beauty industry marketing tactic is the targeting of women and reliance upon her to persuade the men in her household to use skin care products, because up to 70% of all men's skincare products are purchased by women for men.
FaceLube's response is another dramatic break from the traditional beauty industry. FaceLube takes the message directly to men. To resolve the stigma attached to the use of face creams and anti-aging skin care products as a female beauty ritual, FaceLube communicates with men through their natural affinity to their rides by using 'car talk' to educate men about the need for proper anti-aging skin care.
FaceLube not only draws analogies from popular vehicle maintenance services, but drives the point home by cross promoting FaceLube products with popular automotive maintenance services, such as oil changes and auto details. This strategy effectively breaks the psychological barrier between men and his acceptance of a proper skin care regimen as part of a healthy lifestyle.
FaceLube's 3 step system for masculine men's skin care is simple and delivers results. The FaceLube system includes a cleaner, treatment, and protectant. The product line utilizes new anti-aging technologies, combining natural super botanicals and high-performance science-based active ingredients to achieve realistic and sustainable results. FaceLube is not tested on animals and uses natural alternatives to controversial chemicals like Oxybenzone and sulfates.
With Americans on track to buy 13 million or more cars and trucks this year, as reported in a July 6, 2011 article by the Associated Press titled 'Auto industry, seeing new life, is on hiring spree', more people than ever, will be visiting automotive showrooms and waiting rooms where FaceLube will surely be ready to help masculine car owners experience the ultimate tune-up for both his face and his ride.
About FaceLube - FaceLube is a line of high performance results-based masculine men's grooming and men's skin care products. FaceLube was founded by Candace Chen, a 20 year veteran of the automotive industry and small business advocate. She is an appointed trade policy advisor on SMEs (Small & Medium Sized Enterprises) to two cabinet level officials - the U.S. Secretary of Commerce and the U.S. Trade Representative. Ms. Chen is a Next Generation member of the Pacific Council on International Policy, the western affiliate of the Council on Foreign Relations. For more information please visit http://www.FaceLube.com.
###