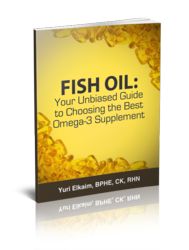 With this report, I try to weed out a lot of misinformation and make the science behind fish oil supplements easy to understand.
Port Perry, ON (PRWEB) April 02, 2013
Holistic nutritionist Yuri Elkaim has released a new report that helps consumers make an informed choice when choosing the best omega-3 supplement for their needs. The 34-page report provides detailed information on the health benefits of fish oil, the manufacturing process, and compares fish oil supplements with other omega-3 supplements on the market.
As a high performance health coach and former professional soccer player, Elkaim has always focused his attention and research on the best foods and supplements to create optimal health.
Now, as a holistic nutritionist, Elkaim tries to help others separate hype from health. This report on fish oil benefits and omega-3 fats is the latest of several no-nonsense books and reports on nutrition by Elkaim.
Omega-3 fatty acids are the good fats required by the human body. While many people believe that a low fat diet is required for maintaining good health and reducing the risk of heart disease, this report will tell consumers that a low fat diet does not alleviate these risks.
"In fact," says Elkaim, "people in the Mediterranean and Intuit Eskimos are some of the healthiest people in the world. Both regions consume a diet that is rich in fatty fish."
The report also lists the health benefits of omega-3 fatty acids as found in fish oil supplements. Doctors have successfully used fish oil supplements to improve post-surgery healing and they have shown promising results in reducing the risk of cancer. Several clinical studies have also shown their effectiveness as a pain reliever, especially in the cases of severe joint pain and menstrual pain.
"As much as we already know about the health benefits of omega-3 fats and fish oil supplements," Elkaim explains, "there's still so much new research going on. We're always finding new ways that these healthy fats improve health and help to prevent disease."
Several concerns have been voiced on the subject of toxins in fish oil. With this report, consumers will have a better understanding of the manufacturing process to know how toxins, such as mercury, are eliminated during manufacturing, and how the manufacturing process has evolved to eliminate the fishy aftertaste that some people have found unappealing.
Citing from clinical studies and independent research, the fish oil supplement report also helps consumers understand what benefits they can get from regular fish oil supplement consumption and how they can choose the best one for their needs.
Consumers can get a deeper understanding of fish oil, krill oil, and plant based omega-3 fatty acid supplements. They will also know what kind of supplement works best based on their specific needs or conditions.
"Getting the right amount of omega-3 fats is so important to optimal health," says Elkaim. "It's important to know what you really need, how much and how to find it. With this report, I try to weed out a lot of misinformation and make the science behind fish oil supplements easy to understand."
xxxx
To learn more about Yuri Elkaim and access his report on fish oil supplements, visit his website at http://www.supernutritionacademy.com/fish-oil