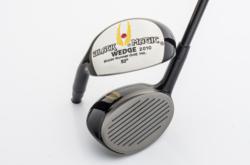 Black Magic Wedge's New Pro Grade Gap Wedge
Nationwide (PRWEB) May 18, 2013
With its "no hosel" innovative design and wide sole, this gap wedge will take a lot of the guesswork out of the short game, leaving the player to concentrate more on the exact spot they want the ball to land. Both amateurs and pros agree that this gap wedge feels more natural and provides a better level of control. Not only does it feel comfortable during the swing, it provides the right amount of loft to get the ball right where it needs to go.
"When you look at a traditional gap wedge you will see a distinct difference in ours versus theirs. Our design is more revolutionary, it still has the iron face that delivers great spin but also features a no hosel design on a hybrid body that eliminates shanks and reduces chunking. The way this club feels in your hand, through the backswing, and right past the follow through is synergistic. It feels more like an extension of your body. What's more, after you get past that phenomenon, you begin to realize how little effort you have to put into your swing to get fantastic results," a company spokesperson remarked.
Blade Runner Golf offers a full line of advanced technology clubs for the short game today. The price of such innovation comes at a remarkably reasonable price as the company offers some of the best gap wedge rates in the retail golf.
Blade Runner Golf markets their products so the average golfer can afford to play with new technology without sacrificing quality. The companies goal is to offer clubs that can be accessible to a wide range of consumers at a fair price.
The company encourages players of all skill sets to come and try out its gap wedge to see for themselves' just how easy it is to use and how much difference it can make in their game.
About
Blade Runner Golf, Inc. is a company that is very serious about the notion that a golfer's short game can make all the difference in his or her final score—and that players can take their short game to the next level if they only have the right club from which to choose. Black Magic's hybrid wedges Conforms to USGA Rules, but also helps golf enthusiasts find new precision and power as they make their way onto the putting green. Black Magic Wedge can be reached on the web at http://www.blackmagicwedge.com.
Contact:
Black Magic Wedge
2519 McMullen Booth Rd
Suite 510-129
Clearwater, FL 33761
Toll Free Phone: 877-799-6099
sales(at)blackmagicwedge(dot)com