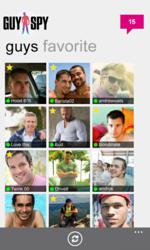 We recognize that Windows is experiencing huge growth as a Smart Phone platform and we are proud that we are able to bring a product like GuySpy to the Window's market
Reno, NV (PRWEB) December 18, 2012
Stark Mobile Technologies LLC is pleased to announce the launch of GuySpy for the Windows Phone platform.
GuySpy is the fastest growing, all male location-based mobile social networking app for iPhone, Android and now Windows. Users who download the free mobile gay dating app are able to find, meet and chat with "men seeking men" faster, easier and with more features than any other dating app.
The recipient of Odyssey Magazine's Best Gay App of 2012, GuySpy is the new go-to place for gay, bi, and curious guys to meet. It's free, fast, and fun. Combining the power of text and video messaging with the immediacy of location - GuySpy is the only all-guy dating application that gives you both.
GuySpy uses location-based services, such as GPS, to connect gay, bi and curious users for free live gay chat - members can find gay men by location, view profiles and photos, send and receive image files, receive video files and text chat - all for free! To make it even easier to chat with gay guys in their area, members have the option of viewing the entire community or using search filters to find only the guys that meet their criteria.
Morris Chapdelaine, Communications and Marketing Manager of Stark Mobile Technologies LLC, said, "We are thrilled to announce the release of GuySpy for Windows Phones. Our app is the premier cross-platform, all male location based mobile social networking tool that utilizes text, mapping and images. We recognize that Windows is experiencing huge growth as a Smart Phone platform and we are proud that we are able to bring a product like GuySpy to the Window's market."
About Stark Mobile Technologies
Stark Mobile Technologies develops and distributes web, mobile web, and mobile applications to North American markets. Its flagship product, GuySpy, is a location-based mobile dating product that combines the intimacy of voice, video and photos with the immediacy of location. GuySpy is available for iPhone/iPad/iPod, Android, Windows, mobile web and web.
For more information, visit http://www.guyspy.com.