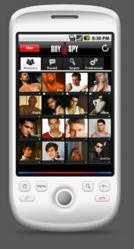 GuySpy is commited to giving our members the best and safest user experience. Compared to competitors like Manhunt and Grindr, GuySpy has way more features to help you find guys YOUR way
(PRWEB) March 15, 2012
Top-rated gay dating app now with Italian, German, French, Korean, Thai and Arabic support. The new version of GuySpy 3.1 for Android is now available, featuring: multi-language support, dynamic matrix display, improved security and usability, and support for both metric and imperial units.
In recognition of GuySpy's global user base, language support for Italian, German, French, Korean, Thai and Arabic have been added. This is in addition to language support for English, Spanish, Portugese and Simplified Chinese.
The matrix of guys is now powered by a dynamic database that displays the guys nearest you who are the most active users. Every day is a new screen of hot guys - and the more active you are on the app, the more prominently you'll be featured.
A major concern of our members is security, and GuySpy takes that seriously too. By adding additional layers of encryption, member data is more securely protected.
Jeff Prete, General Manager of Stark Mobile Media, states, "The evolution of GuySpy apps and popular gay blog continues. This version is a shout-out to our diverse membership from all around the world. The global appeal of GuySpy is very rewarding, and we're thrilled with the reception. Our members have asked for language support, and we're thrilled to deliver."
"GuySpy is commited to giving our members the best and safest user experience. Compared to competitors like Manhunt and Grindr, GuySpy has way more features to help you find guys YOUR way," declared Morris Chapdelaine, Executive Editor of GuySpy. "With language support for 10 languages, the option for metric or imperial display, and improved security, we believe we've raised the bar on the user experience. Add to that the new, dynamic matrix that profiles the hottest, most active users of GuySpy and we're incredibly proud of this release.
GuySpy debuted its app for iPhone in October of 2010. Since then, GuySpy for Android, GuySpy for Mobile Web, and GuySpy for Web have been added to the product line. To date, over 300,000 guys have downloaded the app across 18 countries.
GuySpy uses location-based services, such as GPS, to connect gay, bi and curious users for free live gay chat. Users can find gay men by location, view profiles and photos, upload and listen to voice greetings, send and receive video and image files, and text chat. To make it even easier to chat with gay guys in their area, users have the option of viewing the entire community or using search filters to find only the guys that meet their criteria.
About Stark Mobile Media
Stark Mobile Media develops and distributes web, mobile web, and mobile applications to North American markets. Its flagship product, GuySpy, is a location-based mobile dating product that combines the intimacy of voice and photos with the immediacy of location. GuySpy is available for iPhone/iPad/iPod, Android, web, and mobile web.