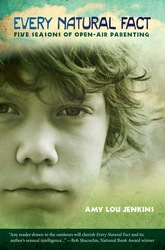 We accept that we can't learn about whales without knowledge of the ocean; we can't know woodpeckers without understanding the forest they live in, yet we often explore the nature of our humanity as if we exit independent of an ecosystem.
Milwaukee, WI (PRWEB) December 2, 2010
Seasonal pressures from advertisers may call for the newest techie gizmo, but it's doubtful any of those shiny gadgets will bring durable happiness or stronger family bonds. For those seeking a richer life, scientific evidence suggests that enduring gifts are extended to those who seek a more natural relationship with the world. Amy Lou Jenkins' book Every Natural Fact: Five Seasons of Open-Air Parenting is a best gift pick (recommended by the Bookworm, Midwest Booksellers, and others) that offers a new model for building better humans and better relationships: go outside. Every Natural Fact was released this summer by Holy Cow! Press, and chronicles mother and son nature walks across the state of Wisconsin.
"We accept that we can't learn about whales without knowledge of the ocean; we can't know woodpeckers without understanding the forest they live in, yet we often explore the nature of our humanity as if we exit independent of an ecosystem," says Jenkins.
Science agrees: time in nature is essential.

Time in nature makes you think better. The paper, "The Cognitive Benefits of Interacting with Nature," published in Psychological Science finds that time in nature offers physiologic and physical replenishment and makes an individual more open to personal insight.
Time in nature builds better stewards of the Earth. Elizabeth Halpenny PhD examined place attachment and found that the number one indicator that a person will engage in environmentally responsible behavior is that they have a connection to a natural space. The number two indicator is that they have a mentor who loves engagement in the natural world.
Humans have a biologic based need to spend time in nature. Pulitzer prize-winning author and scientist Edward O Wilson argues that human beings have an innate, biologically based affinity with the natural world. He calls this "biophilia" - defined as "the urge to affiliate with other forms of life".
People need uninterrupted time together to build relationships. Do your own experiment. Ask a teenager, how was your day? See if you can get a two sentence answer before some interruption intrudes. In Every Natural Fact, conversations find a natural rhythm, impossible to duplicate under the duress of phones, computers, TV's, Ipods, and hectic schedules.
Jenkins says, "Our children are projected to be the first generation in US history to have a shorter lifespan than previous generations. We are also subject to the propaganda that we are insufficient without the newest product, and a newer product is coming tomorrow. This consumer cycle can not build a fulfilled life. Processed foods, sedentary lifestyles, and automated days all contribute to woeful predictions. Time in nature and a connection to forests, fields, and natural spaces are obvious tonics for the ills of pudgy, cranky, and pale children and adults. Natural experiences build better lives --with or without a child in tow."
Every Natural Fact belies the notion that natural spaces are the exclusive realm of outdoorsman brave enough to paddle class five rapids or scale the face of El Capitan. While adventurous opportunities do abound in wilderness, a basic understanding of place and openness to wild places can lead to a better life. Follow Jenkins and her eleven-year old son explore natural places and some of the questions each generation must ask anew.
"Braiding together history, memoir, gentle parenting guidance, and superb nature writing, Jenkins' prose illuminates the details of ordinary life."—Susan Cheever, author of American Bloomsbury.
Wisconsin's wild areas become the world in extraordinary debut by Amy Lou Jenkins'. Every Natural Fact is nothing less than sensational. — Pamela Miller, Minneapolis Star Tribune.
"If you combined the lyricism of Annie Dillard, the vision of Aldo Leopold, and the gentle but tough-minded optimism of Frank McCourt, you might come close to Amy Lou Jenkins, a writer who obliterates the distinction between regional writing and actual, honest-to-god writing. I, for one, would follow her anywhere."—Tom Bissell, author of The Father of All Things.
"What makes this book such a marvel is the way the human and the non-human are kept in perfect balance: the psychological dance of a mother and son, with all its funny, touching, realistic two-steps, intersects with the desire to be opened up to the mystery and rapture of the natural sublime. It is a splendid fusion, as much about parenting and education and generation gaps as it is about patient observation of landscapes in flux. Jenkins' polished literary style makes it, sentence by sentence, a joy to read."—Phillip Lopate, author of Waterfront.
"Any reader drawn to the outdoors will cherish Every Natural Fact and its author's sensual intelligence potted in the fertile soil of a boundless curiosity for the world. Amy Lou Jenkins is the Anna Quindlen of the north woods, the Rachel Carson of the good land of Wisconsin, bequeathing to her son and to all of us an indestructible sense of wonder." — Bob Shacochis, National Book Award-winning author of Easy in the Islands and The Immaculate Invasion.
Every Natural Fact, a best gift pick, is printed on sustainable paper, available as an e-book and is found at major booksellers everywhere. Find more reviews, awards, and honors at http://www.amyloujenkins.com.
# # #