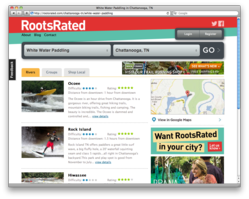 Chattanooga, TN (PRWEB) May 31, 2013
RootsRated, a startup that connects people to the outdoor experiences that local experts know and love, is celebrating its anniversary with the unveiling of a new look and feel.
"The name RootsRated reflects our commitment to unlocking authentic local knowledge from grassroots experts. In celebrating our one-year anniversary we felt it was time to give a new look to RootsRated. The new identity is flexible, fresh and energetic," says Mark McKnight, Co-Founder of RootsRated and Marketing Director of outdoor clothing and gear retailer Rock/Creek.
Jake Wheeler, a recent graduate of the University of Tennessee's design program, joined the company this week as Creative Director. "Our new logo is a mark, which symbolizes the idea of bookmarking a destination or an experience. When it comes down to it, we want RootsRated to be the tool that people use to discover great local experiences, whenever, wherever."
A year ago, Fynn Glover, along with executives from Rock/Creek and Horny Toad founded RootsRated to provide people with a better way to discover the best of local outdoor lifestyle. "For example, when you search Google for the best hiking in Chattanooga, or climbing, or whatever sport you're interested in, you often run into a sea of mediocre search results," says Fynn Glover. "So, outdoor enthusiasts turn to people they can trust. Every day, people walk into specialty retail shops like Rock/Creek and ask the outdoor industry's most important question, 'Where can I get outside around here."
RootsRated works with independently owned retailers to unlock the most authentic local knowledge. The result is a dead-simple tool that connects outdoor enthusiasts to the best outdoor experiences, not to mention the best places to get caffeinated before a long day on the trail, or refuel with a craft beer afterward.
About RootsRated
Founded in May of 2012, RootsRated currently serves 37 cities and works with over 55 great local retailers. To bring RootsRated to your city, get in touch with Fynn(at)rootsrated(dot)com. Visit the site at http://rootsrated.com and use it to find your next outdoor experience.