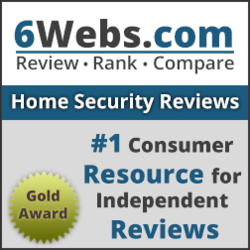 Consumers look to the independent reviews on 6Webs.com when in the market for a home security system.
Detroit, MI (PRWEB) May 28, 2013
6Webs.com is the leading provider of home alarm system reviews. Consumers that are considering an alarm system can quickly compare the features and services of the country's top alarm system companies online at 6Webs.com. The reviews of top home alarm system companies were recently completed and released on 6Webs.com. Reviews of each state are conducted yearly and the top alarm system companies are graded. Ranking every security system company consists of carefully looking at their customer satisfaction and company ratings along with equipment and warranties.
Tim Smythe from 6Webs.com states, "The 6Webs.com team learned while conducting the reviews that a lot of consumers were concerned about safety and many people favored cellular-based services with a wireless security alarm due to the fact there are no wires vulnerable outside the home. This offers a big advantage over the more traditional phone line and Internet-based connections and is one of the reasons why the team at 6Webs.com has seen a large demand in cellular home security systems."
The best home alarm system company in 2013 according to 6Webs.com is FrontPoint Security. FrontPoint Security provides their customers with 100% cellular monitoring services and wireless home security systems. This is the combination that most consumers who were intereviewed preferred. Consumers can compare the features of the best home security providers online at:
6Webs.com - Security System Reviews
About 6Webs.com
6Webs.com is dedicated to providing homeowners with the best alarm system information available. 6Webs.com delivers side by side comparisons in an simple to use format so consumers can easily find the information they are trying to find. Centering on providing 3rd party reviews and comparisons, 6Webs.com also puts out educational information related to home security and safety to assist families lead a safer and more secure lifestyle. Visit 6Webs.com for the latest comparisons and reviews of the leading security system companies.