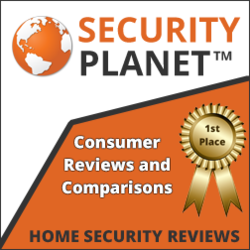 SecurityPlanet.com is the consumers' choice when it comes to unbiased home security reviews.
Seattle, WA (PRWEB) June 04, 2013
SecurityPlanet.com is the leading source of unbiased and independent alarm system reviews. Homeowners who are interested in an alarm system can do a comparison of the features and services of the nation's top security system providers online at SecurityPlanet.com. The reviews of leading home alarm system companies were recently completed and released by SecurityPlanet.com. Each year the SecurityPlanet.com staff travels between states completing the home security assessments and speaking to consumers and customers. The home security companies are ranked on several key aspects including reliability, technology and pricing.
Gavin Anders from SecurityPlanet.com states, "The SecurityPlanet.com staff discovered that homeowners were concerned about safety and nearly all homeowners favored cellular monitoring services due to the fact there aren't any wires vulnerable outside the home. The staff at SecurityPlanet.com has seen an increase in consumer who purchase cellular home security systems in the past year."
FrontPoint Security was awarded as the best alarm system provider according to the national reviews site. FrontPoint Security is recognized for providing their customers with remarkable customer service and sustaining a good rating on the Better Business Bureau. FrontPoint Security's capacity to maintain an excellent customer service rating coupled with their cellular-based technology has made them a popular choice among homeowners. ADT Security and Protect America are also on the list of top alarm system providers. Protect America, headquartered in Texas, delivers home security services nationwide by furnishing their customers with GE Security equipment supported up by a lifetime warranty. ADT Security is the clear leader when it comes to professionally installed home security systems. ADT Security provides their customers with brand name equipment and has a number of plans and services to choose from.
To look at the features and the services of the best home alarm system companies visit SecurityPlanet.com at:
SecurityPlanet.com - Security System Reviews
About SecurityPlanet.com
SecurityPlanet.com is the trusted home security systems reviews providers that focuses on delivering the most updated and useful advice to buyers that are thinking of buying a home security alarm system. They recently published a consumer tips sheet on the top features of a home security system that is available on their blog. SecurityPlanet.com examines the capabilities and services of the top rated home security providers so homeowners can easily choose the best alarm system for their family. Focusing on providing impartial reviews and comparisons, SecurityPlanet.com also puts out informative advice associated with home security and safety to assist families lead a safer and more secure lifestyle. Visit SecurityPlanet.com for additional info on the leading burglar alarm system providers.