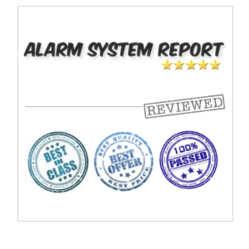 We're proud to help guide consumers on their search for a new home alarm system in 2013. There have been some updates that consumers should know about when making their decision.
Miami, FL (PRWEB) December 10, 2012
The leading home alarm systems reviews authority, AlarmSystemReport.com, recently announced its latest round of reviews and rankings for the best home alarm system companies of 2013. This year's list represents the findings of several months worth of research by the company's staff of alarm system industry experts.
With the number of home alarm companies exploding in recent years, it is more important than ever for consumers to have reliable information by which to judge which security companies are the best fit for protecting their homes and families. In this year's rankings, AlarmSystemReport.com whittled the list of hundreds of alarm system companies to the very best three regional and national service providers. This year's ratings also include additional information on the best wireless and DIY alarm systems.
"We've gone the extra mile this year to give customers the information they need to evaluate and compare all of the home alarm and security system market leaders," said Steven Ordona, head of publication relations for AlarmSystemReport.com. "Our reviewers have really broken it down for consumers, including specific information on each company's customer service, equipment, technology and service offerings, affordability, BBB complaints, warranties, and more. We're confident we've collected everything a consumer could need to make the right choice."
FrontPoint Security, a relatively young company founded in 2007 in McLean, VA, landed at the top of this year's alarm system rankings, with reviewers giving it a perfect 5 out of 5 rating. FrontPoint Security was cited for its excellent, expert customer service and support, as well as its reliable GE wireless equipment, cellular and smart phone monitoring options, perfect A BBB rating, and additional home automation ratings. 2013 marks two years in a row that FrontPoint Security has landed at the top of AlarmSystemReport.com's overall best alarm system company category.
Protect America placed second in the 2013 rankings, with a 4.5 out of 5 rating. The company offers several alarm system packages with little to no upfront costs and affordable monitoring packages. It also uses top of the line wireless equipment and offers cellular and online monitoring options. While the company's overall BBB ratings were positive, there were some isolated incidences of serious customer complaints.
ADT Security placed third in the overall rankings, also with a score of 4.5 out of 5. ADT has a long, established history with solid products and services. Unfortunately, it can be prohibitively expensive, especially for homeowners interested in a cellular monitoring option. Nevertheless, ADT remains a strong reputation for quality and reliability.
For more information on the home alarm system industry, about specific companies like LifeShieldSecurity or FrontPoint Security, or for other DIY and wireless alarm system reviews, readers should visit AlarmSystemReport.com.
About AlarmSystemReport.com
With its reputation as a leading expert in the home alarm and security system industry, AlarmSystemReport.com strives to educate consumers about the wide variety of security system reviews and services available in the dynamic home security systems market. Its researchers and writers work hard to deliver the most accurate, objective, up to date information possible about emerging technologies and services, new companies, and other changing market dynamics. All of AlarmSystemReport's reviewers are completely independent of any alarm or security company.
###