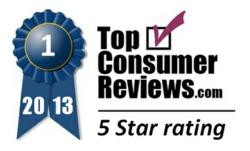 Each year TopConsumerReviews.com carefully reviews the nation's leading home automation systems to determine which rank among the best.
New York, NY (PRWEB) April 24, 2013
TopConsumerReviews.com has announced that FrontPoint and Vivint made their list of top home automation companies for 2013.
TopConsumerReviews.com provides independent reviews for thousands of products including home automation systems to help consumers make well informed decisions.
Each year TopConsumerReviews.com carefully reviews the nation's leading home automation systems to determine which rank among the best. Several factors are used in determining the ranking such as ease of use, customer support and overall value.
Brian Dolezal of TopConsumerReviews.com explains, "With many people facing long hours at the office or constantly being on the go, recent updates in technology have put a focus on the convenience and control that a home automation system brings. We know that people are looking for the right home automation that offers the key features they need to reduce the stress of a busy lifestyle. That can be overwhelming with all the home automation choices out there. To help, our staff at TopConsumerReviews.com has closely analyzed several home automation companies. While the decision is ultimately up to the customer, we hope our research and reviews will help them feel confident in their home automation selection."
FrontPoint Automation provides a quality wireless home automation system that is friendly on the budget. Customers also like that FrontPoint has no added installation costs and is flexible enough to customize to their specific needs. The remote access options can help a customer take control of a few basic items, such as security and lighting, or expand to a more elaborate system. FrontPoint's home automation is a top choice for home automation shoppers.
Vivint incorporates the latest in technology to allow residents to take control of their home via Internet access from any location. This wireless system is flexible and can create a network that connects all the home's smart systems such as security, lighting, video, small appliances, HVAC, and more. Vivint is also budget-friendly for those want the convenience and control that home automation brings without spending thousands of dollars to do so.
To find out more about home automation companies, including reviews and comparison rankings, please visit the Home Automation category of TopConsumerReviews.com at http://www.topconsumerreviews.com/home-automation/.
About TopConsumerReviews.com
TopConsumerReviews.com, LLC is a leading provider of independent reviews and rankings for thousands of consumer products and services. They offer the latest on home automation including information, education, and ratings for the best home automation systems available today.