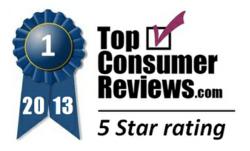 Home automation systems are becoming a growing trend in today's households. Hectic work schedules, frequent travel and busy parents are using the latest technology for convenience and peace of mind
Overland Park, KS (PRWEB) April 02, 2013
TopConsumerReviews.com recently named the top rated home automation systems for 2013.. TopConsumerReviews.com provides independent product reviews on home automation companies to help consumers make well informed decisions.
Home automation systems are becoming a growing trend in today's households. Hectic work schedules, frequent travel and busy parents are using the latest technology for convenience and peace of mind. Home automation systems run the gamut in functionality. Determining what a homeowner wants and needs is very personal and also dependant on how much they are willing to spend. TopConsumerReviews.com has reviewed a list of home automation systems to help shoppers make well informed buying decisions. The rankings of the home automation systems were based on value, ease of use, and customer support.
Some of the best home automation companies for 2013 include:
FrontPoint Security provides GE manufactured equipment in their flexible and affordable home automation system. This system is wireless and therefore eliminates the damage and expensive installation needs of a hardwired product. The remote access options can allow a homeowner to take control of a few basic items, such as security and lighting, or expand to a more elaborate system with a list of control options. FrontPoint's home automation comes at a great value and is a top rated home automation solution that will fit into just about anyone's budget. Combined with a strong customer team, FrontPoint is an excellent choice for home automation needs.
ELAN provides a technology savvy home automation product to control just about any aspect of a home. They score well for their reliable, flexible, user friendly system that adapts to the changing needs of the home. ELAN's products are designed to work well with the leading suppliers of home security systems, lighting, music sources, HVAC systems and more. While ELAN rates well in several aspects of quality and functionality, this is generally not for the budget minded shopper.
Vivint incorporates home automation into their security system to provide a nice combination of control and convenience. Their wireless system is flexible and able to create a network that links all of the home's systems. Security, lighting, video, small appliances, HVAC, and more can all be programmed and controlled from anywhere in the world. Vivint is friendly on the finances for those that want the convenience and control that home automation brings without spending thousands of dollars in the process.
To find out more about home automation companies, including reviews and comparison rankings, please visit the Home Automation category of TopConsumerReviews.com at http://www.topconsumerreviews.com/home-automation/.
About TopConsumerReviews.com
TopConsumerReviews.com, LLC is a leading provider of independent reviews and rankings for thousands of consumer products and services. They offer the latest on home automation including information, education, and ratings for the best home automation systems available today.