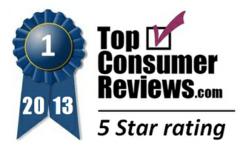 TopConsumerReviews.com provides independent reviews for thousands of products including home security systems in order to help consumers make better informed decisions.
Overland Park, KS (PRWEB) February 04, 2013
TopConsumerReviews.com recently compared the top home security systems available for 2013. TopConsumerReviews.com provides independent reviews for thousands of products including home security systems in order to help consumers make better informed decisions.
TopConsumerReviews.com recommends that before settling on a home security system, customers should first research home security companies to find the best system for the money. Different home security systems can vary greatly in price, technology, flexibility and protection.
Some of the features that homeowners should consider include:
Costs. Investigate all of the costs first, including equipment, installation and extra sensors.
Monitoring. Determine if the company provides a live monitoring service. Live monitoring is recommended for the quickest access to authorities should someone attempt to break-in.
Warranty. Also check to see if a warranty exists should the equipment fail. Many companies cover their products as long as the monitoring service is paid for.
Technology. Keep in mind that user friendly technology exists today for those people on the go. Some companies offer remote access to turn-on or off the system, view real-time video and other high tech features.
Flexibility. TopConsumerReviews.com identified that, for most consumers, a one size fits all approach to home security wasn't the best approach. Look for a reliable home security company that offers flexible system customization and different package options for the highest level of protection.
ADT is a well-known name in the home security market. They score high marks for their monitoring service and reliable equipment. Homeowners should expect to pay a little more for installation and equipment costs, but their customers appreciate the long history that ADT brings to the table.
FrontPoint Security provides home security shoppers with excellent equipment and top-notch customer service. Homeowners can save significantly on installation costs and flexible contract periods with FrontPoint. We liked the all-cellular home security product, easy installation, and all-inclusive quality monitoring packages. FrontPoint Security is a strong choice for any home security needs.
Protect America provides state-of-the-art equipment and a 24 hour nationwide monitoring system at a great price. Free equipment and no installation charges makes the Protect America home security system affordable for just about anyone. The support staff at Protect America is both knowledgeable and friendly. For those looking to protect their home safely and affordably, Protect America is a great choice.
The team at TopConsumerReviews.com found that companies providing the latest technology, affordable pricing and 24 hour monitoring ranked the highest in overall customer satisfaction. With the number of home security companies available today it's possible to find exactly what's needed at a an affordable price. Consumers who are actively in the market for a home security system can access the TopConsumerReviews.com website for the detailed comparisons of several top home security systems today.
To find out more about home security companies, including reviews and comparison rankings, please visit the Home Security Systems category of TopConsumerReviews.com at http://www.topconsumerreviews.com/home-security/.
About TopConsumerReviews.com
TopConsumerReviews.com, LLC is a leading provider of independent reviews and rankings for thousands of consumer products and services. They offer the latest on Home Security Systems including information, education, and reviews on the best home security systems available today.