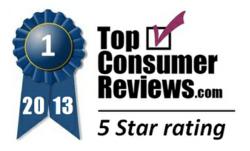 Wireless home security systems are also preferred by homeowners, especially those who want to install a security system in their current home.
Albuquerque, NM (PRWEB) May 19, 2013
TopConsumerReviews.com has recently named the top home security companies in New Mexico for 2013. TopConsumerReviews.com provides independent reviews for thousands of products including home security systems reviews in order to help consumers make well informed decisions.
The Southwestern State of New Mexico has over 2 million residents and a higher than average rate of violent crimes. According to the 2011 FBI Uniform Crime Report, 1 out of every 176 residents of New Mexico was a victim of a violent crime. The chance of being a victim of a property crime was also much more prevalent in this state, with 1 in every 28 people experiencing a theft or burglary. This has caused many residents of New Mexico to look for ways to better protect their home and their family members that live inside. Experts suggest adding dead bolt locks to their exterior doors and lighting, but that a home security system is the best method to reduce the risk of crime.
The researchers at TopConsumerReviews.com, identified that home security systems providing the latest technology, affordable pricing and 24 monitoring service brought the highest level of customer satisfaction for home security system owners. Remote access is also becoming a very popular feature when choosing a home security system. This allows homeowners to turn their security system on or off, potentially lock or unlock a door, and access real-time video using internet access from anywhere in the world.
Wireless home security systems are also preferred by homeowners, especially those who want to install a security system in their current home. Wireless systems avoid the messy installations in traditional security systems, such as drilling into walls and running wires throughout the house. Instead, wireless home security systems are quick to setup and easy to maintain. Those living in rental properties are especially interested in home security systems that used wireless technology.
FrontPoint Security, for example, provides a state-of-the-art wireless home security system at a very affordable price. Customers like the free installation costs and flexible contract periods they find at FrontPoint. Remote access capability, easy installation, and a dependable nationwide monitoring service are some of the other features that homeowners like about FrontPoint.
To find out more about home security companies, including reviews and comparison rankings, please visit the Home Security Systems category of TopConsumerReviews.com at http://www.topconsumerreviews.com/home-security/.
About TopConsumerReviews.com
TopConsumerReviews.com, LLC is a leading provider of independent reviews and rankings for thousands of consumer products and services. They offer the latest on Home Security including information, education, and ratings for the best home security systems available today.