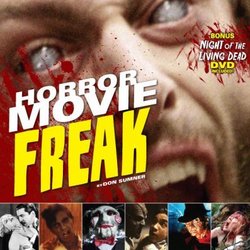 I immediately received a firestorm of negative feedback about many of my choices
Manhattan Beach, CA (Vocus) April 29, 2010
Best-horror-movies.com Founder and Editor-in-Chief Don Sumner attributes the success of his website to the Top 100 Horror Movies List which was the main focus of the site when it was launched in 2006. Sumner, an avid horror movie enthusiast had done some Internet research on websites listing top horror films and found the films featured to be more mainstream in nature, not geared toward what he calls the 'horror movie freak'. In other words, the lists included popular films such as anything by Stephen King, the 'Halloween' and 'Friday the 13th' Series, etc. but left out the lesser known horror films he considered to be brilliant.
Sumner then set out to form his own Top 100 Horror Movie List, based on his personal opinions, just to put out there on the web and see what others thought of it. The result was astonishing.
"I immediately received a firestorm of negative feedback about many of my choices," says Sumner, "Not only that, people that visited Best-horror-movies.com forwarded my list to others and it started to get a buzz around the Internet as being a horrible list written by an idiot."
At first Sumner was disappointed and as expected, a bit offended. But then he realized this controversy was actually a good thing. First of all, this is exactly what he envisioned – a website that would draw true horror enthusiasts with opinions and give them a forum to share their views on what the best horror films were. Secondly, having people disagree with him seemed natural as no two people are ever going to agree on the same 100 horror films, nor will any one person have seen every horror film ever made. So he sucked it up, welcomed the criticism and gave Best-horror-movies.com the tagline 'For the discerning horror freak'.
To engage Best-horror-movie.com readers, Sumner decided to put together a rating methodology for the next Top 100 Horror Movies List and depending on reader interest, have a new list released annually. In this effort, he put together a 'panel of experts' that included the seventeen most active participants on the site. These experts were asked to comprise their own list of top horror movies and publish them on a Forum on Best-horror-movies.com where readers could then give their input. In addition to putting together the lists, the panelists were asked to rate the films on a scale of 1-10 in eight categories that included: originality, impact, scares, visuals, story favorite, script and longevity.
After months of gathering user feedback on the new master list of approximately 500 horror movies panelists rated, the second Top 100 Horror Movies List was ready to be published on on Best-horror-movies.com and distributed via eNewsletter to Sumner's 10,000-person member database.
"Each year,' says Sumner, the Top 100 Horror Movies List is perfected more and more to reflect the opinions of the true horror fan versus the casual fan, and that was our goal. Based on the same rating methodology, the 2010 list is taking more time than ever to complete because of increased Best-horror-movies.com user involvement and interest."
Sumner attributes part of this interest to his upcoming book Horror Movie Freak. Due out in August 2010, Horror Movie Freak explores what it takes to be just that…a horror movie freak. Naturally, before starting the book, Sumner went right to the Best-horror-movies.com fan base and asked them what films they wanted to see featured. So when it came time for the 2010 Top 100 Horror Movies List, these fans were already engaged and more excited than ever to offer their opinions.
The 2010 Top 100 Horror Movies List is due out on April 30 on Best-horror-movies.com. Many of the films listed will also be featured in the book Horror Movie Freak. With over 250 color illustrations, Horror Movie Freak also includes a DVD of George A. Romero's 1968 original zombie movie masterpiece Night of the Living Dead with a special introduction by Don Sumner. Pre-orders of Horror Movie Freak are available now at Amazon.com. For further information, visit http://www.horrormoviefreak.com.
Sumner's passion however, remains the Best-horror-movies.com Top 100 Horror Movies List. And if the past four years is any indication as to the future of the list, horror movie freaks can always look forward to their tastes being represented at Best-horror-movies.com.
Visit http://www.best-horror-movies.com.
###