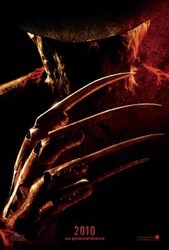 The pace of older horror movies being remade for modern audiences continues to quicken
Manhattan Beach, CA (Vocus) April 29, 2010
Why the fuss about A Nightmare on Elm Street (2010) and what the heck is an encapsulation?
When compared to other top-grossing horror franchises ('Child's Play', 'Friday the 13th', 'Halloween', etc.), 'A Nightmare on Elm Street' is the third highest at $522 million (Box Office Mojo 1/17/08). Consisting of eight slasher films, a television show, novels and comic books, the franchise began with Wes Craven's 1984 original film 'A Nightmare on Elm Street', based on the fictional character Freddy Krueger who stalks and kills teenagers in their dreams causing them to die in real life. His motive? To seek revenge on the teenager's parents who had burned him alive years before.
Having been sixteen years since the last film in the Nightmare series (unless you count 2003's 'Freddy vs. Jason'), a remake at this point seems inevitable. According to Best-horror-movies.com Founder and Editor-in-Chief Don Sumner in his book Horror Movie Freak due out in August 2010, remakes are hardly a new phenomenon. "The pace of older horror movies being remade for modern audiences continues to quicken," says Sumner, "and there is no end in sight."
Horror movie remakes have indeed become routine in the 2000's. In addition to 2004's remake of 'Dawn of the Dead', as well as 2003's remake of Tobe Hooper's classic 'The Texas Chainsaw Massacre', there was also the 2007 Rob Zombie written and directed remake of John Carpenter's 'Halloween' which focused more on Michael's back story than the original did, devoting the first half of the film to Michael's childhood. It was critically panned by most, but was a success in its theatrical run. This success lead to the remakes, or reimaginings of other popular horror franchises with films such as 'Friday the 13th' (2009), 'The Last House on the Left' (2009), 'The Wolfman' (2010) and now 'A Nightmare on Elm Street' (2010).
Some may be off put by the horror movie remake trend, but note the benefits for the horror movie industry. First and foremost, new versions of old classics bring new horror movie fans out of the woodwork, resulting in an increased supply of frightful films. "Lets face it, we all want to rescue our fellow man from the tyranny of the romantic comedy" jokes Sumner in his book Horror Movie Freak. Plus judging from box office sales, some horror movie remakes are actually better than the original, with modern technology often breathing new life into an old classic.
There are several different types of remakes – from modernizations to reimaginings to 'encapsulations' a term coined by Sumner. 'A Nightmare on Elm Street' (2010) is an encapsulation, a film whose original version spawned several sequels and whose villain, in this case Freddy Krueger, is the real star of the show. An encapsulation according to Sumner acknowledges the secrets revealed throughout the series and incorporates them into the remake.
"A curious thing happens when movie after movie is made surrounding the same horror villain; the horror-loving audience learns more and more about the background, motivations, family and goals of the dreaded doer of despair," says Sumner, "These details become part of the mystique of the character, giving him a depth that becomes part of popular culture."
The encapsulation method of the horror movie remake is rather new and really began with 'Friday the 13th' (2009). Jason Voorhees was merely a last minute mention in the original 'Friday the 13th', and didn't begin his own killing spree until 'Friday the 13th Part 2'. Then, in 'Friday the 13th Part III' Jason dons the infamous hockey mask for the first time. A remake of the original sans Jason and with no hockey mask in sight, in light of all that has transpired over the years, wouldn't make any sense at all. But the encapsulation method enables all common knowledge about the character to be pulled together into one gut-slicing remake. It is really the purest form of making classic horror accessible to a new generation. There is nothing boring about encapsulations which tend to move quickly with gory precision. No need to labor over explaining this detail or that as everybody knows the score walking into the theater. Simply acknowledge the facts and move onto the slaughter.
Who doesn't know who Freddy Krueger is? 'A Nightmare on Elm Street' brought Freddy into theaters and living rooms all around the world, and into the nightmares of budding horror movie fans of all ages. Then there were the sequels. Freddy got campier, Freddy got darker, Freddy battled the dream warriors and Freddy fought Jason Voorhees. Through all of these films key details and background information was revealed. Freddy's background, motivations, origins and weaknesses.
Again, encapsulation is the only true answer to completing a remake of this film series. The encapsulation won't necessarily be appropriate for most horror remakes, but for those with iconic characters like Freddy Krueger there really is no other option. The only question that remains then is whether 'A Nightmare on Elm Street' can survive without actor Robert Englund as Freddy.
Find out in theatres on April 30, 2010 and at Best-horror-movies.com.
###