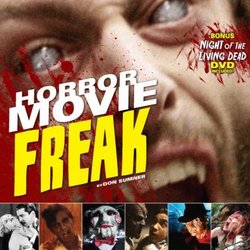 I was always a closet horror fan
Manhattan Beach, CA (Vocus) May 1, 2010
Horror movies are as much a part of American culture as baseball and apple pie. Unlike the latter however, they tend to elicit the emotions of fear, horror and terror. Their plots frequently involve themes of death, the supernatural or mental illness. Many horror movies also include a central villain. Early horror movies are largely based on classic literature of the gothic/horror genre, such as 'Dracula', 'Frankenstein', 'The Phantom of the Opera', and 'Dr. Jekyll and Mr. Hyde'. More recent horror films continue to exploit the monsters of literature, and also draw inspiration from the insecurities of modern life ('The Wolfman', 'The Uninvited', 'The Stepfather').
Throughout history, horror movies have been dismissed by mainstream critics as violent, low budget B movies and exploitation films. Nonetheless, all the major studios and many respected directors, including Alfred Hitchcock, Roman Polanski, Stanley Kubrick, Martin Scorsese, and Francis Ford Coppola, have made forays into the genre.
"I was always a closet horror fan," says Don Sumner, Founder and Editor-in-Chief of Best-horror-movies.com and the book Horror Movie Freak due out in August 2010, "until one day when I finished watching my latest horror movie rental and went to the computer to do a little research on the subject." What Sumner found was evidence of a multi-million dollar industry and a ton of sites full of information about horror movies. He knew then he was not alone.
What Sumner noticed in his research though was that none of the web sites really engaged him and made him feel like he was at home. In other words, Sumner envisioned a site not only appealing to viewers looking for horror movie information and trivia, but one that would host a 'community' where fans could share their ideas, their feelings, their love of horror with one another. Knowing he was on to something, Sumner launched the website Best-horror-movies.com in 2006 to give true horror fans what they really want. "As a horror movie fan myself," says Sumner, "I was always disheartened by what I call the 'horror intelligentsia' - mainstream reviewers and film academics that pick on horror. Rather than regurgitate their point of view on the genre, I wanted to create a content-driven website where horror movie enthusiasts could read about what other horror enthusiasts thought, and eventually interact with each other via blogs, forums and chat rooms."
Little did Sumner know at the time this platform and subsequent user activity would quickly have Best-horror-movies.com generating over a million page views a month and would render him USA Today's 'expert on horror movie locales'. People everywhere were coming out of the woodwork, anxious to get in touch with their inner horror movie freak.
With literally thousands of horror movie aficionados clamoring for more, now it was time for a book.
"We immediately went to the Best-horror-movies.com fan base and asked them what horror movies they wanted to see featured in Horror Movie Freak," remembers Sumner, "From there we realized the importance of including every subgenre of horror; for example one chapter's dedicated to remakes and reimaging. Other subgenres include classics, Asian horror, zombies, homicidal slashers, vampires, monsters, ghost stories and more. In short, we wanted to give horror movie fans a sort of road map, letting them know which films the horror community considers an essential part of the journey in becoming a horror movie freak."
In addition to Best-horror-movies.com fans, Sumner enrolled other experts in the horror movie industry – reviewers, filmmakers, actors and writers to give their input. The result is one of the best horror reference guides in history. With over 250 color illustrations, Horror Movie Freak also includes a DVD of George A. Romero's 1968 original zombie movie masterpiece 'Night of the Living Dead' with a special introduction by Don Sumner.
Horror movie fans - admitted or closeted - may rest assured that if the growth of the industry is any indication, their thirst for horror will always be fulfilled.
Pre-orders of Horror Movie Freak are available now at Amazon.com. For further information, visit http://www.horrormoviefreak.com.
# # #