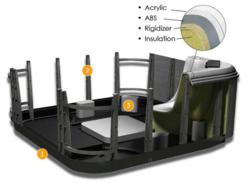 Salt Lake City, UT (PRWEB) May 10, 2012
Bullfrog Spas, the only portable hot tubs with patented JetPak Technology, was awarded the About.com Reader's Choice Award for Best Hot Tub 2012.
After an audit of votes to remove fraudulent votes Bullfrog won the voting by a huge margin with 88% of all the votes cast.
Bullfrog Spas' modern technology, focus on made-in-USA quality, and strong online presence was instrumental in helping them achieve the award. With around 5 times as many people following their social networks as their next closest competitor, Bullfrog is quickly gaining a large following of passionate spa owners and fans who appreciate JetPaks and quality.
Bullfrog Spas' patented JetPak Technology is a modular hot tub jetting system which allows spa owners to interchange the massages in their hot tub at any time.
In addition to JetPak Technology, Bullfrog Spas provide these additional features:

100% wood-free composite spa frame, no rot or warping
Best energy efficiency based on California Energy Commission data
Made in the USA with non-polluting, green methods, and using 25% recycled materials
About Bullfrog International
Bullfrog International designs and manufactures the world's only hot tubs with JetPaks, which are modular jetted spa seats. This technology allows the user to customize, interchange, and upgrade the spa's jetting at anytime. JetPaks are backed by six U.S. patents with other U.S. and foreign patents pending. Because of the JetPak System, Bullfrog Spas provide powerful hydrotherapy, are virtually leak-proof, and are extremely energy efficient. Bullfrog International currently distributes, licenses, and retails its products in the United States, Canada, Australia, Asia and Europe. Bullfrog International, LC, is headquartered in the greater Salt Lake City, Utah metro area.
Bullfrog executives, including CEO, Jerry Pasley, are available for interview.
To learn more about Bullfrog's patented JetPak Technology or to design a custom hot tub online, please visit bullfrogspas.com.