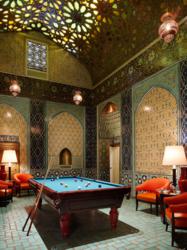 No other presidential suite in the world offers such diversity or opulence than the Fairmont San Francisco penthouse suite.
Los Angeles, California (PRWEB) May 07, 2013
Brian Daniel's 2013 choice for the 'Best Hotel in the World' goes to the Fairmont Hotel in San Francisco. Established in 1916, the hotel has an old-world charm and unique style from a bygone era. The crown jewel of this property is its amazing 2-level penthouse suite with sweeping views of the city.
Some of the world's most esteemed dignitaries, celebrities and heads of state have called this place home for at least a night, including Mick Jagger, Mikhail Gorbachev, John F. Kennedy, Elton John, Prince Charles of Whales and Tony Bennett – who sang "I left my heart in San Francisco" for a private audience.
This decadent suite has 6000 sq. feet of space and each room is a work of art, so the space is conducive for meetings, events, bachelor parties or honeymooners.
The Fairmont San Francisco has everything a guest would need for a comfortable 5-star stay: fine dining, boutique shops, an exercise room, meeting space, a day spa, and concierge services to help plan your trip into the city.
ABOUT BRIAN DANIEL
Brian Daniel is a travel expert and former celebrity personal assistant to Hollywood A-list, billionaires and royalty. As a travel manager to the Saudi royal family for two years, he has traveled extensively throughout North America, Asia, Europe and the Middle East – and has accumulated more than 500 overnight stays in the world's best hotels. Daniel founded The Celebrity Personal Assistant Network in 2007, which is a recruitment firm for the high net worth. As a necessity, http://www.TravelRaven.com was later established to support the personal assistants and lifestyle managers that were placed by Daniel's agency. At present, the travel concierge services are invite only – reserved for current clients of the headhunting outfit.