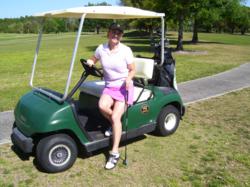 The Best Hybrid Golf Wedges In The Game of Golf Today
Nationwide (PRWEB) June 27, 2013
Blade Runner Golf's Black Magic Line of wedges is much different looking than your standard wedge. Their best hybrid golf wedges have a hybrid body which is well received by players along with an iron face that offers great spin and control. The hosel has been removed from the face of the club which allows players to get very creative by laying the face open for more lift on short shots without worrying about shanking. This patented design has received one rave golf wedge review after another from the customers whom have taken the time to let them know how their short game has greatly improved and how it is making golf fun again.
"Every players goal is to avoid unnecessary strokes on the course but practice facilities are full of players who only concentrate on the long game. Many players don't practice bunker shots and all types of short game shots that they will have on the course, mainly because they don't see results that make it fun to practice. Blade Runner Golf is doing its part by offering an all new design in a set of wedges that will make practicing more fun. Our customers are consistently telling us that the best hybrid golf wedges for building confidence with bunker shots and all those short game shots that need fast lift are the Black Magic wedges", commented a spokesperson for the company.
The Black Magic best hybrid golf wedge comes in a lob wedge, sand wedge, gap wedge, pitching wedge, and a 37 degree chipper that works great from 7 iron distance and in. All of their products conform to USG Rules, and recently the Black Magic Wedge received forty five points out of a perfect fifty from an independent golf examiner in his golf wedge review.
Confidence is what makes great players in any sport. In golf the best players in the World will miss approximately 30% of green in regulation but can still shoot under par very consistently. These players are able to shoot under par because of the great skill they display with the short game that comes from total confidence to chip or pitch shots to a precise spot on the green with their wedges.
Blade Runner Golf encourages players to visit their online golf store at http://www.blackmagicwedge.com where you can view many short videos by pros and amateurs showing how one can get the confidence to be a great short game player.
About:
Blade Runner Golf, Inc. Is a company devoted to the notion that a golfer's short game can make all the difference in his or her final score—but you can take your short game to the next level only if you have the right equipment. Black Magic's hybrid wedges conform to USGA rules, but also help golf enthusiasts find new precision and power as they make their way onto the putting green. Black Magic Wedge can be accessed on the web at: http://www.blackmagicwedge.com.
Contact:
Black Magic Wedge
2519 McMullen Booth Rd
Suite 510-129
Clearwater, FL 33761
Phone 727-726-5737
Toll Free 877-799-6099