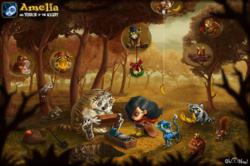 If film director Tim Burton made apps, he'd quite possibly make something that looks like Amelia and Terror of the Night, which is high praise.
Gdynia, Poland (PRWEB) December 14, 2012
The book tells a story about little girl Amelia and her 3 animal friends. Big furry monster called TeddyTeddy, shy little tortoise named Little Pencil and blue two wheeled cat called Kitty Patter. Together they must face the evil, dreadful creature from the woods – The Whine.
Amelia and Terror of the Night is a surreal, emotional story about friendship, acceptance, cooperation and courage. It is a journey to the far-off land of adventures, mini games, unique activities and lovely music. It will get the kids and adults into the magical mood.
Features:
✓ over 360 interactions and animations,
✓ mini games and unique activities (tic tac toe, planet rotation, dress-up characters etc..),
✓ 42 beautifully presented screens with detailed graphics,
✓ over 20 minutes of voices fully narrated by professional actors with the lip synchronized animations,
✓ over 35 minutes of professional soundtrack,
✓ over 400 humorous sounds,
✓ 60 hidden stars to unlock secret scene at the end of the story,
✓ feel the depth of the 3D effect by tilting the device from left to right.
✓ universal app for iPad / iPhone / iPod
About OhNoo Studio:
OhNoo Studio is an independent development team, whose goal is to make original, beautiful, fully interactive books and games for the mobile devices and pc/mac. "Amelia and Terror of the Night" is OhNoo Studio's debut in the app universe.
AppStore: https://itunes.apple.com/us/app/amelia-and-terror-of-the-night/id583199247
Trailer: http://youtu.be/ASeKyb_XSRI
Screens: http://ohnoo.com/amelia-press.html
Website: http://www.ohnoo.com
Twitter: @OhNooStudio
Mail: contact(at)ohnoo(dot)com