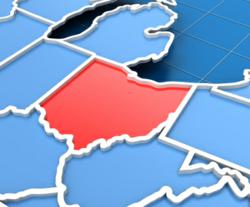 El Segundo, CA (PRWEB) December 27, 2012
Ohio, the Buckeye State, is the most recent region explored in GoBankingRates.com weekly "Best Interest Rates in Every States" series. The report evaluates the competitiveness of deposit products -- namely, certificate of deposit (CD) accounts and savings accounts -- the state has to offer as compared to U.S. deposit rate averages.
Ohio interest rates today prove to be an easy contender against local banks and credit unions nationwide, according to the investigation.
"Unlike its findings from our previous study on Pennsylvania interest rates, Ohio interest rates are far higher than the national average in all deposit account categories. This is hopeful news for Ohio residents who are working to maintain a comfortable level of financial security into 2013, as deposit rate returns are more than promising," shares Jennifer Calonia, Go Banking Rates correspondent reporting on the study.
6-month CDs in Ohio average 0.47% APY, while the national average rate is at a mere 0.31% APY. Continuing the trend are Ohio's 1-year CD and 2-year CD rates whose averages are at 0.72% APY and 1.08% APY, respectively. The corresponding national averages for these products are 0.47% APY and 0.71% APY.
If these findings weren't positive enough, the state's average savings account rate is at a strong 0.39% APY, compared to the average U.S. savings account rate of 0.21% APY.
Certificates of deposit remain one of the tried and true tools for saving money, and Ohio residents are better able to realize their personal and financial goals with the help of the best interest rates in the area. High-yield savings account rates and CD rates are bountiful in the state, giving depositors even more incentive to remain on their savings path.
Go Banking Rates identify the top 10 CD rates across multiple terms (i.e. 6-month CD, 1-year CD and 2-year CD), as well as the leading savings account rates within Ohio, so depositors are able to save money straightaway.
Click here to see the full study.
Michigan is slated for the next installment of Go Banking Rates' "Best Interest Rates in Every State" series, and is scheduled to launch on Thursday, January 3, 2013 on GoBankingRates.com.
About Go Banking Rates
GoBankingRates.com is a national personal finance website dedicated to connecting readers with the best interest rates on bank products nationwide. The Go Banking Rates team manually collects interest rate information from over 4,000 banks and credit unions, making their database the only source of fully comprehensive and authentic local rate data.
GoBankingRates.com is the national flagship site within a network of more than 1,500 banking domains, including local partner site http://www.OhioBankingRates.com, which generate more than 2 million visits each month. Ohio Banking Rates is a locally-focused website dedicated to connecting Ohio readers with the best interest rates in the state on Certificates of Deposits, Savings Accounts, Auto Loans, Mortgages and more.
For questions or comments, please contact:
Jaime Catmull, Director of Public Relations
GoBankingRates.com | OhioBankingRates.com
JaimeC(at)GoBankingRates(dot)com
310.297.9233 x261
###