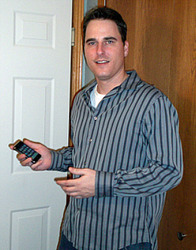 I felt there was a need to bridge the gap between the small, very detailed and concise iPhone app review sites and the all-encompassing giants that list each and every app
Minneapolis, MN (PRWEB) March 24, 2010
With more than 175,000 iPhone™ apps now available in the marketplace, how do short-on-time consumers find the best needle in the haystack? It's easy now to find the best free and paid iPhone apps sorted by category - just check out AppFairy.com and let the pixies do their magic.
"I felt there was a need to bridge the gap between the small, very detailed and concise iPhone app review sites and the all-encompassing giants that list each and every app," said Jed Lampi, founder of AppFairy.com. "This way, there is still a large collection of apps, but they're the functioning, relevant and popular ones. In other words, if you find an app on AppFairy, it won't be junk and a waste of your time and money."
AppFairy.com conveniently takes the best of the iTunes® App Store and makes it easy to find, search and locate all of the best iPhone apps in one free place.
As soon as a user enters the site, they are greeted with 20 available categories such as business, sports, utilities, entertainment, games and of course music. Clicking on a category yields the top apps in each group, easily sorted with plenty of detailed information on the app and an easy-to-use link directly to the iTunes Store.
"My site makes it easy to find the best iPhone apps and download them directly to your phone," Lampi said. "It will help you choose the best apps out of the extensive directory."
For users looking for simply the best free apps (or paid) available in any category, there are daily lists on AppFairy showcasing the recently most popular iPhone apps.
"We also have a section on the site listing the Top 50 Paid and Free Downloaded iPhone Apps broken down by category that comes daily from the iTunes store," Lampi explained. "There are also 20,000 more top apps on our website for users to sort through and download."
They also have handy articles that provide more in depth information on specialized apps. The articles follow the 'Top Ten' formula, each offering ten solid apps to consider while providing other useful news and facts.
After months of work and development, the main features and functionality of this site are complete. There will be more releases to follow when major additions are finished. For more information about AppFairy.com or to check out some of the best iPhone apps available, please check out their website at http://www.appfairy.com.
# # #