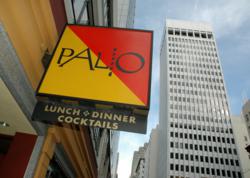 I prefer to serve a little buckwheat mixed into my polenta, known as taragna– just like they ate before Christopher Columbus brought corn back from the New World.
San Francisco, CA (Vocus/PRWEB) January 12, 2011
Winter food says comfort; think the mountains with bold flavors and long cooking. Broccoli and cabbage families, the chicories and Radicchio, crab, mushrooms and truffles, beets and chards, nuts and rich cheeses are all on the plates at 20 year Italian cuisine veteran Palio D'Asti on Sacramento Street in San Francisco's Financial District.
With a seasonally changing menu that focuses on the Piemonte region in the cold months, it's no wonder that Palio's chef owner Dan Scherotter is adding a special polenta menu section with four offerings to attract the eye and taste buds of regulars at lunch and dinner.
Authenticity is the byword at Palio making it a Michelin recommended destination for "comfortable dining." Scherotter, who personally oversees the kitchen daily, worked in Bologna for 2 years and was a founding restaurant member of Slow Food San Francisco.
Together with his wine importer wife Nina, he regularly visits Italy where he researches regional recipes featured on Palio's ala carte weekday lunch service and its "Mix and Match" fixed price dinner menu that offers most of the same dishes available at lunch, plus a few seasonal additions.
"I prefer to serve a little buckwheat mixed into my polenta, known as taragna– just like they ate before Christopher Columbus brought corn back from the New World," explained Scherotter. "Not only is it a nod to tradition, but it adds complexity, flavor and variety, as well."
Made with butter, sage and and Parmigiano Reggiano, taragna is served with the guest's choice of sautéed toppings such as roasted and braised wild mushrooms with red wine and rosemary; slow-cooked pork shoulder with tangerine, Meyer lemon and blood orange; cotechino and pork fennel sausages with braised cabbage and grain mustard or spiced venison sugo with gorgonzola, roasted chestnuts and pomegranate.
"The people of Northern Italy eat this a lot; and also live longer than anyone else in Europe," said Scherotter. "Coincidence? Who knows. All I can say is that they all go great with red wine from our Wine Spectator award winning list; while our new polenta home fries sprinkled with Montasio cheese and served with truffled aioli are a great snack to try with a cocktail during happy hour."
New seasonal Antipasti include broiled scallops with lemony braised escarole, toasted sesame seeds and 'Sicilian caviar'; calamari fritti with lemon and spicy roasted pepper sauce; tuna carpaccio with cured tuna roe, hearts of palm, Castelvetrano olive tapenade and fried capers; and affettati misti, a classic country meats appetizer – good for sharing –with a finely chopped salad of pickled vegetables.
Not to be missed by pork lovers is the minestra maritata (Neapolitan wedding soup) which marries five preparations of pork braised with 5 different greens. All of Palio's pasta is house-made and available in both small and large size servings; the former being especially popular at dinner as a primi piatti between the appetizer and entrée courses, in the Italian fashion.
Meat and fish entrees for the winter include Piemontese style grilled boneless rainbow trout filets with braised savoy cabbage and onions, pancetta and horseradish cream; Tuscan red wine fisherman's soup with lobster chianti broth; osso buco with sage-scented buckwheat polenta, gremolata and root vegetable; and - at dinner only - prime New York strip steak with bone marrow butter and sea salt, aged balsamico and braised red chard. Tiramisu with a rum zabaglione and a house-made dolci assortment of chocolate truffles, cookies, profiteroles and petit fours are among the signature desserts.
The a la carte lunch menu includes antipasti, soups and starter salads from $7 to $12; individual pizzas and large salads from $13 to $21; primi piatti polenta and pastas available in half and full size portions from $10 to $21; entrees averaging $25 and desserts from $4 to $9. "Mix and Match" Prix Fixe Dinner options allow diners to choose any Two Courses for $31, Three Courses for $38, or Four Courses for $45.
The popular front Enoteca room features a vibrant mural by Bay Area artist Marco Sassone that whisks diners to the heart of the Il Palio horse race for which the restaurant is named, while the private San Pietro Room in back is perfect for a private party with its private bar, artwork, and a heated patio that serves as a separate party entrance or outdoor "cigar lounge"- with some of the world's top brands available.
About Palio D'Asti
Palio D'Asti is among the best Italian restaurants in San Francisco, and located at 640 Sacramento Street between Kearny and Montgomery in the heart of San Francisco's financial district, convenient to Moscone Center and major downtown hotels. Open for lunch Monday- Friday from 11:30am to 2:30pm, Palio offers dinner Monday- Saturday from 5:30- 9:00 p.m.
A weekday bar menu is offered from 2:30- 5:30 p.m. with "$1 Pizza" at the best San Francisco Happy Hour Monday-Friday 4:00 to 7:00 p.m. Private dining is available for breakfast, lunch, cocktail receptions and dinner for groups of 10 to 300. Street parking is available after 7:00 p.m. and at several nearby garages during the day. Reservations are available online via Open Table and directly at http://www.paliodasti.com or by calling (415) 658-9295.
###