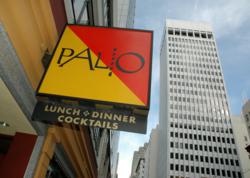 "People don't realize that when it comes to tuna, the different parts of the fish lend themselves to different cooking techniques; just like with pork, beef or duck
San Francisco, CA (Vocus/PRWEB) June 24, 2011
In honor of the ancient Italian tuna hunt known as La Mattanza, and inspired by both the whole hog and locavore trends, 21 year Italian cuisine veteran Palio d'Asti downtown San Francisco Italian restaurant is offering a 3 course "Head to Tailfin" local albacore menu this summer that uses the every part of the tuna—including the offal—and employs various traditional Sicilian recipes and combinations prepared with 4 different cooking techniques.
Chef owner Dan Scherotter, who personally oversees the kitchen has studied, lived, and worked in Italy and Palio's menu is a changing seasonal culinary tour of that country; with Sicily and Southern Italy the chief focus in the summer. Sicily holds a special place in Scherotter's heart, not only for its cuisine, but because it's also where Scherotter and his wine importer wife Nina eloped in 2003. Recently named Managing Partner, Martino Di Grande hails from a family of Sicilian fishermen—another personal connection to the albacore-oriented specials that Palio is making a new summer tradition.
"People don't realize that when it comes to tuna, the different parts of the fish lend themselves to different cooking techniques; just like with pork, beef or duck. So this menu is as much about showing the versatility of our local albacore as it is about honoring an ancient tradition," explained Scherotter. "The Mattanza is thought to go back as far as the Phoenicians and for thousands of years insured that even the poorest families ate well for weeks. Unfortunately, the region's bluefin tuna have been overfished in modern times and are endangered today. These culinary history lessons are why I not only use local, organic produce, as is the tradition in Italian cooking, but why I also carefully source sustainable meats and fish that insure respect for our oceans' integrity."
The Menu La Tonnara Sicilian Style Whole Tuna Feast is offered at dinner as a special menu or as individual dishes that can be ordered as part of Palio's Prix Fixe "Mix and Match" menu. The Antipasto con Caponata features Albacore Tuna Belly served two ways—cooked in Sweet and Sour Sauce and Raw with Trapani Sea Salt with Traditional Eggplant Relish with Pine Nuts, Raisins, Olives and Capers. A "primo" Tutto il Tonno al Ragù e Bottarga comes with Cured Tuna Roe, Sweet Onions and Oregano in Tomato Sauce Poured over Saffron Infused CousCous with Toasted Almonds while the "Secondo" of Lombo di Tonno alla Brace offers up Grilled Local Albacore Tuna Back Loin with Grilled Heirloom Summer Squashes and Sweet Peppers, Fried Capers, Castelvetrano Olives, Three Herb Salsa Verde.
"Tuna-centric a la carte lunch dishes include a Menage a Tonno Local Albacore Sampler as well as the Slow Cooked Tuna Palermo Style offered at dinner," said Scherotter. "Other seasonal dishes that say summer are an entrée sized Stonefruit Salad on Butter Lettuce with Red Onions and Almonds in Champagne Nectarine Vinaigrette; Pizza Rucola with aged Balsamico, White Corn and Fresh Asiago Cheese; classic Ligurian Gnocchi con Pesto Genovese with Yellow Wax Beans, Hand-Rolled Penne with Jowl Bacon, Cherry Tomatoes, Caramelized Onions and Spicy Ricotta di Pecora; and a light, 'moderna' version of the classic Melanzane alla Parmigiana in which the eggplant is wood baked with Local Ewe's Milk Ricotta, Marjoram and Tomato Sauce."
In addition to changing daily features, Southern Italian specialties such as Spicy Sautéed Wild Prawns served with Cool Cucumber Salad and CousCous, Creamy Burrata with Heirloom Peppers, and Black Squid Ink Spaghetti with Maine Lobster Meat will be available both day and night. Plus, according to Managing Partner Di Grande, Palio is now offering 2 hours free parking at both lunch and dinner.
With white table cloth service that is professional and upscale, but never stuffy, it's no wonder that Palio d'Asti has earned a Michelin recommendation for "comfortable dining" in addition to its Wine Spectator Award for excellence. The a la carte lunch menu includes antipasti, soups and starter salads from $7-$12; individual pizzas and large salads from $13-$21; Primi Piatti pastas available in half and full size portions from $10-$21; entrees averaging $25 and desserts from $4-$9. Prix fixe dinner options allow diners to choose any two courses for $31, three courses for $39, or four courses for $46. The popular front Enoteca room features a vibrant mural by Bay Area artist Marco Sassone that whisks diners to the heart of the Il Palio horse race for which the restaurant is named, while the San Pietro Room in back is perfect for a private party with its private bar, contemporary artworks, and a heated patio that serves as a separate party entrance or outdoor "cigar lounge"- with some of the world's top brands available for purchase.
About Palio d'Asti Italian Restaurant San Francisco
Celebrating 20 years of authentic, seasonal Italian cuisine with a Slow Foods approach, Palio d'Asti features classic and contemporary Italian regional fare combined with exceptional, white table cloth service at its ala carte lunch and prix fixe dinner. Open Monday-Friday for lunch and Monday-Saturday for dinner Palio d'Asti also hosts the best San Francisco Happy Hour featuring a wide selection of artisan pizza for only $1 with the purchase of two adult beverages from 4-7pm Monday through Friday.
With several rooms available for group dining for 20-200, as well as a private smoking patio and a full time banquet department that can arrange everything from live music and dancing to specialty wedding cakes, Palio d'Asti is also a top San Francisco party venue available for private dining 7 days a week for breakfast, lunch, dinner and mid day corporate meetings and presentations.
Palio d'Asti is located at 640 Sacramento Street between Kearny and Montgomery in San Francisco. Valided parking is available during lunch and dinner at the Portsmouth Square Garage only 1 ½ blocks away.
For reservations or more information call (415) 658-9295. To make reservations online visit http://www.paliodasti.com.
###