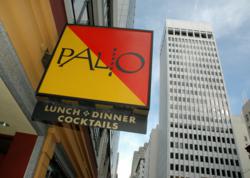 Being that we live in ever bountiful Northern California, you'll find local Dungeness crab, ahi tuna, day boat scallops, PEI mussels, manila clams, squid ink, and of course, traditional salt cod on my menu.
San Francisco, CA (PRWEB) December 10, 2011
In one episode of The Sopranos, Carmela indicates she would personally make the Christmas Eve dinner because you, "can't turn Janice loose on shellfish." Why shellfish? Because for those whose families hail from Sicily, The Feast of the Seven Fishes (La Festa Dei Sette Pesci) is a much beloved Christmas Eve custom San Francisco Italian restaurant Palio D'Asti is bringing the tradition to San Francisco this year for three days leading up to and including Christmas Eve.
Popular throughout Southern Italy, The Feast of the Seven Fishes menu varies from place to place depending on which seafood items are fresh and available. It's the lucky number seven, representing what folklore says are the seven virtues, as well as the number of different kinds of fish cooked, that is the common denominator.
No one dining at Palio D'Asti (http://www.paliodasti.com), the city's favorite downtown San Francisco Italian restaurant, need worry about the skill in the kitchen when Executive Chef and co-owner Dan Scherotter steps behind the stove Thursday through Saturday, December 22 to 24 to prepare his five-course Feast using as many as 13 kinds of fish and shellfish in a variety of enticing dishes.
Cost for this special prix fixe dinner is $75 per person; with the regular Palio menu also available for non fish eaters. The Wine Spectator award winning list includes over 20 seafood friendly white wines by the bottle, as well as several by the glass, numerous Italian and French bubblies, and seasonal cocktail creations to toast the season.
"Being that we live in ever bountiful Northern California, you'll find local Dungeness crab, ahi tuna, day boat scallops, PEI mussels, manila clams, squid ink, and of course, traditional salt cod on my menu," explained Scherotter. "Bring the kids too. As a father I can attest that they'll love my deviled eggs starter and we'll whip them up a plate of pasta from the regular menu, followed by gelato or Italian cookies while the adults enjoy the full Feast.
"At the end, while enjoying our Traditional Christmas brioche bread pudding laced with brandy, cinnamon and nutmeg, wash it all down with our house Limoncello—made according to General Manager and partner Martino DiGrande's Sicilian grandfather's recipe—and you'll have plenty of reason to say Ho, Ho, Ho!"
The Feast of the Seven Fishes menu starts with a plethora of small tastes from Crab Stuffed Devilled Eggs and Ahi Tuna Tartare with House-Cured White Anchovies and Grilled Sardines to Fried Monterey Squid, Smelts and Octopus Croquettes with Lemon. Follow that up with a seafood –centric Antipasti of Scallops with Escarole and Sea Urchin, Wood-Roasted PEI Mussels with Sicilian Sea Salt and Zuppetta di Vongol; Steamed Manila Clams with Garlic, White Wine and Calabrese Chilies.
The Primo course will be a spectacular Risotto alla Mt. Etna- a volcano of Black Squid Ink Arborio rice erupting with seafood 'lava' beneath a cloud of sheep's milk ricotta cheese while the Main Course of Baked Swordfish with a Trinity of Sauces is complimented by Ceci e Baccala in Zimino; Swiss Chard and Garbanzo Beans cooked with Salt Cod and Garlic. Christmas Brioche Bread Pudding ends the 5 course feast along with a glass of chilled Limoncello, a centuries' old Southern Italian "digestivo" made in house.
For those who want to celebrate, but not smell up the house cooking seafood, the cost is $75 per person on December 22-24 with seatings from 6 to 9 pm; allowing local denizens who come to the last seating on Christmas Eve to be finished in plenty of time for midnight mass. Reservations are accepted online at http://www.paliodasti.com, through Open Table or by calling (415) 658-9295.
About Palio d'Asti - Italian Restaurant San Francisco
Celebrating 21 years of authentic, seasonal Italian cuisine with a Slow Foods approach, Palio features classic and contemporary Italian regional fare as well as holiday menus and special gluten free options combined with exceptional, white tablecloth service lauded by the Michelin Guide.
Open Monday through Friday from 11:30 am to 2:30 pm for ala carte lunch and Monday through Saturday from 5:30 to 9:00 pm for prix fixe dinner, Palio also hosts the best San Francisco Happy Hour, featuring a wide selection of artisan pizza for only $1 with the purchase of two adult beverages from 4 to 7 pm Monday through Friday.
Palio d'Asti is also a top San Francisco party venue available for private dining 7 days a week for breakfast, lunch, dinner and midday corporate meetings and presentations. Located at 640 Sacramento Street between Kearny and Montgomery in San Francisco, Palio is close to Moscone Center and within a 10 minute walk or taxi ride of all major downtown hotels. Validated parking is available during both lunch and dinner at the Portsmouth Square Garage, only 1½ blocks away. For more information or to reserve visit either http://www.paliodasti.com, Open Table or call (415) 658-9295.
###