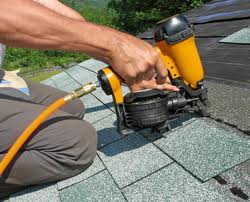 The Florida Building Code requires insurers to replace an entire roof if a minimum of 25 percent is damaged by hail or wind.
Jacksonville, FL (PRWEB) August 24, 2012
Best Jacksonville roofing company, Roof Link Inc., as voted by satisfied customers, is now offering insurance assistance to homeowners that have experienced roof damage to their home. One problem that is reported by many North Florida homeowners has to do with wind and hail damage to shingles and the underlying roof structure. Some insurance companies independently review damage and can deny payment to homeowners. Roof Link Inc. is now helping homeowners understand their rights when negotiating an insurance claim for roof damage. Interested homeowners can read more about the insurance assistance available on the Roof Link Inc. website by following this link http://www.roofingjacksonvilleflorida.com/storm-damage-facts.
A high percentage of Florida attorneys specialize in defending homeowners against insurance companies. Insurance fraud and misrepresentation are common in property damage cases. Insurers can be found negligent in a court of law by not adhering to contractual terms that are placed inside of homeowner insurance policies. Companies like Roof Link Inc. that understand what is and what is not covered can help property owners understand that an attorney can help get the monetary rewards they could be owed in a settlement.
"Insurers usually discount the cost of repairs and replacements based on the age of the home," said Garrett Wadford, owner of Roof Link Inc. "The Florida Building Code requires insurers to replace an entire roof if a minimum of 25 percent is damaged by hail or wind," Wadford added.
Paying for repairs out of pocket or for entire roof replacement in Florida can be an expensive venture for someone without proper insurance coverage. The insurance laws are complex and the average person might be unaware of the different statutes and legalities that are working for or against them. Hiring an attorney to represent a homeowner in a Florida property insurance case is now more common than in years past due to the high unemployment rate and foreclosure ratios through all of the 67 Florida counties.
Roofs that are leaking and go without repair can quickly damage other parts of a property. Virtually invisible spores of mold and weather related algae can quickly spread to other areas of a home and cause immediate damage. The majority of insurance companies do not provide coverage for mold growth once it has spread to levels that cannot be easily removed. The expert roofing services that are provided by companies in North Florida like Roof Link Inc. are designed to stop and prevent mold and algae from destroying a roof.
Homeowners interested in receiving a quote or consultation for roof repair or replacement can contact Roof Link Inc., 2730 Isabella Blvd, Suite 50, Jacksonville Beach, FL 32250 or call (904) 900-2801.
About Roof Link Inc.
Roof Link Inc. is a growing North Florida roofing contracting company that is now offering 7 days a week service. These professionals are lead by Garrett Wadford, a veteran in the roofing industry, and help homeowners with repairs and entire roof replacements. The Roof Link Inc. staff is highly trained and uses only the best quality roofing materials and equipment. With affordable pricing and easy insurance negotiations, Roof Link Inc. has quickly become a preferred favorite among many North Florida homeowners that need roof repairs and installations completed promptly and professionally.