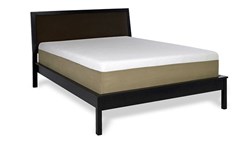 Manhattan, NY (PRWEB) February 16, 2014
With the rise of modern and simple furnishings, the platform bed has become a popular choice for contemporary bedrooms. However, this type of bed has a unique feature that sets it apart from traditional frames, which can make mattress shopping tricky.
Consumers familiar primarily with common box spring sets often wonder what type of mattress should be used on a platform bed, as mattresses are designed to rest directly on the base without box foundations. Blog Best Mattress Online seeks to answer this question and reduce confusion with their latest blog post, "Best Mattress Options for Platform Beds".
In the article, the blog offers a brief introduction to platform beds and explains the key characteristics to consider when choosing a mattress. The five major factors mentioned include weight limits, support type, height, comfort and manufacturer warranty.
The article also introduces and compares the leading mattress types including memory foam, latex, air, innerspring, futons, and waterbeds. For each category, Best Mattress Online offers a basic introduction into what the mattress is composed of, the support it is designed for, tips for pairing it with a platform bed, as well as pros and cons based on owner reviews.
Concluding the blog post, the website summarizes whether or not each mattress type is platform compatible along with other details including average owner satisfaction. The two mattress types deemed most compatible for platform beds prove to be memory foam and latex, as explained by Best Mattress Online. Readers considering platform-style beds will likely find a few useful pointers in the article, and the blog also links to other general guides on selecting latex mattresses and memory foam beds.
BestMattressOnline.com specializes in researching mattresses and mattress shopping to bring consumers useful and timely information. The blog format offers an accessible, mobile friendly platform for learning about brands and types of beds. Readers receive pro shopping tips, helpful guides, comparisons and more from an unbiased, fact-based perspective.