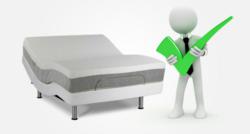 Tempe, AZ (PRWEB) January 24, 2013
Adjustable beds remain one of the hottest bedroom furniture items right now, due to continued innovations and a host of comfort features. However, many shoppers new to the beds don't quite know how to compare or select the right model.
Bed and mattress blog Best Mattress Reviews noted this issue, and created a guide outlining how to choose an adjustable bed, aimed at both beginners and shoppers in the research phase of buying. Identified are six primary steps that people should consider when starting out. They include determining necessary features, mattress and bed size, as well tips on researching features, setting a budget, and getting a good deal.
In order to show consumers the primary features of adjustable beds and how to compare different models, the blog included a helpful, detailed table summarizing top adjustables. The bases featured include the ErgoStar adjustable beds from Astrabeds, S-Cape and Prodigy from Leggett and Platt, and the Ergo line from Tempurpedic; 7 models in all.
The comparison shows how beds that may look similar can actually differ quite a bit in terms of features, options and value. Some of the factors compared are remotes, incline degree, design, sizes, massage and other luxury features. Also included for reference are the beds' warranties and average retail prices. The article goes on to further compare and contrast the different models.
Designed to highlight the benefits of comparison shopping and make the buying process simpler for shoppers, the post doesn't specify one adjustable bed as better than the others. Rather, it aims to show the features to allow consumers to make the best decision for their needs. The blog also offers other recent posts likely to be of interest to buyers, including a guide to reading mattress reviews, and top mattress and adjustable brands based on consumer reviews.
BestMattress-Reviews.org is a blog dedicated to providing mattress and sleep product information. On the blog, independent industry professionals provide expert opinions and recommendations backed by research and customer reviews. The website aims to make the buying and research process a little simpler by collecting and analyzing information in a digestible, enjoyable format.