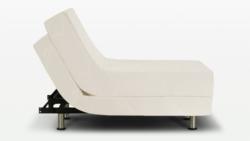 Omaha, NE (PRWEB) April 11, 2013
Best Mattress Online announces the official launch of their bed blog, which will report on a wide range of topics related to the bedding industry. The announcement also coincides with their latest blog post, a guide on adjustable bed mattresses.
The blog targets consumers as their primary audience, and will offer a variety of shopping tips and guides for finding the best mattress. With the goal of facilitating product research and education, Best Mattress Online will compare different types and brands of beds and offer industry-insider tips shoppers can apply to their searches.
Exemplifying this mission, the latest post on the blog offers information on selecting an adjustable bed mattress. Titled "Best Mattress Options for Adjustable Beds," the article looks at what characteristics an ideal mattress should have in order to be compatible with an adjustable base and discusses which types best fit this profile.
Based on factors like flexibility, thickness, durability, and size availability, the blog finds that memory foam and latex mattresses offer the best options for use on adjustable bases. Each type of bed receives a detailed explanation, and Best Mattress Online also makes thoughtful recommendations. For example, Amerisleep's memory foam mattresses are recommended for adjustable beds based on the plant-based formulation, density, reviews, and value.
Other articles currently available look at topics like how to get the best deal on a mattress, mattress reviews, and shopping online versus in stores. Best Mattress Online plans to post new content regularly, with upcoming topics to include best rated memory foam mattresses, detailed comparisons, and additional buying guides.
BestMattressOnline.com specializes in researching mattresses and mattress shopping to bring consumers useful and timely information. The blog format offers an accessible, mobile friendly platform for learning about brands and types of beds. Readers receive pro shopping tips, helpful guides, comparisons and more from an unbiased, fact-based perspective.