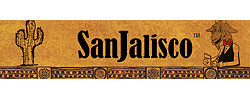 San Francisco, CA (PRWEB) May 06, 2013
Mother's Day in Mexico is a celebrated holiday and is always observed on May 10. This year, because the American Mother's Day falls on the same weekend, SanJalisco Mexican Restaurant is offering a special to celebrate. Beginning Friday, May 10, during dinner, every table who brings a mother will receive their choice of a free nachos or guacamole appetizer.
In Mexico, El Dia de las Madres and in the US, Mother's Day has always been a day to celebrate the women who raise their children and live as cornerstones for their families. SanJalisco Mexican Restaurant feels it is important to thank and show appreciation to all mothers who do so much for their families. They are encouraging guests to celebrate the women that shaped them and bring them out to dinner during Mother's Day weekend.
The free nachos or guacamole promotion will begin May 10 and end at closing on May 12. The appetizer special will be available beginning at 4 p.m. with the start of dinner. SanJalisco's homemade dishes include their award winning pozole, tamales, enchiladas, traditional Mexican soups and thick, freshly made tortillas. All of their dishes are prepared with fresh meat and vegetables. They specialize in recipes from the Jalisco region of Mexico, which is considered to be quintessentially Mexican.
Fans of authentic Mexican cuisine will be pleasantly surprised with the fresh comfort food served at SanJalisco Mexican Restaurant. Their patrons know that the best Mexican food is more than just burritos and tacos. The restaurant offers a "sit-down" approach for a friendly and cheerful atmosphere.
About the restaurant:
SanJalisco Mexican Restaurant is the destination place in San Francisco for the best authentic Mexican food. They offer dine in, take out, and catering services and accept reservations for large parties and events. Their wait staff is always friendly and their low prices and authentic regional style recipes keep their customers returning for more. For more information please visit http://local.sfgate.com/b21664090/SanJalisco-Mexican-Restaurant.