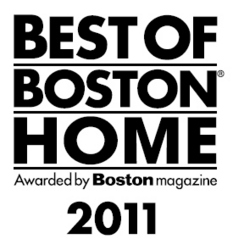 Planning and building a home is one thing, but doing it with immaculate style, consideration for clients' needs, and an expert understanding of environmental impact is where this end-to-end services firm really shines.
Boston, MA (PRWEB) January 11, 2011
Boston Home Magazine named ZeroEnergy Design, a green architecture and mechanical design firm, the "Best Green Architect" in the Best of Boston Home 2011 issue. The award is one of New England's most recognized professional accolades and is produced by the publishers of Boston Magazine with input from construction industry experts.
Known for working at the intersection of modern design and exceptional energy performance, ZeroEnergy Design's unique team of professionals includes not only architects, but mechanical engineers and finance professionals as well. Stephanie Horowitz, AIA, the firm's Managing Director, commented: "We are honored and humbled to have been selected as Boston's Best Green Architect. Our entire collaborative team made this possible. We will continue to make energy efficiency beautiful through architecture that is uniquely informed by place, subject and environmental ideals."
The new award follows a year replete with project awards for the firm, including the Grand Award in the EcoHome Magazine Design Awards, a Citation for Sustainability from the Boston Society of Architects, a National Finalist award in the US Green Building Council's Natural Talent Design Competition, and a project ranked in Builder Magazine's 10 Great Houses of 2010 list.
Boston Home summarized the unique qualities of ZeroEnergy Design: "Planning and building a home is one thing, but doing it with immaculate style, consideration for clients' needs, and an expert understanding of environmental impact is where this end-to-end services firm really shines."
About the Architect: ZeroEnergy Design
ZeroEnergy Design creates innovative and environmentally sensible homes. The firm's multidisciplinary team of architecture, engineering and finance professionals takes a calculated, three-pronged approach to green design and sustainability. This results in high performance homes that holistically appeal to the clients' lifestyles, aesthetic preferences, and environmental ideologies.
http://www.ZeroEnergy.com
Contact:
Emile Chin-Dickey
617-720-5002 *101
ZeroEnergy Design
###