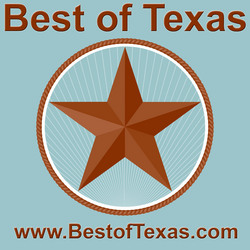 Testimonials give consumers someone to connect with, which is great word-of-mouth advertising
Dallas, TX (PRWEB) October 30, 2008
The busiest time of year is right around the corner and BestofTexas.com is ready to get businesses in front of the right consumers. The online advertising company offers Video Listings, Emails Blasts and other forms of advertising, specifically targeted to a company's demographics.
Video Listings are the best way for advertisers to give the community an opportunity to learn more about their business. Not only do these listings receive top placement on Best of Texas (BOTX) , but they also give business owners and managers the opportunity to "communicate" directly to their potential customers. This is a great way to get an edge on your competition, and "show" people, with a Virtual Video, what you're all about. Another great feature of the Video Listing is the inclusion of a Customer Testimonial.
"Testimonials give consumers someone to connect with, which is great word-of-mouth advertising," says Marketing Director Ashley Wicks, and with Video Listings at only $239 a month, you can't beat it.
BOTX also provides businesses a way to promote specials, events and current promotions through Email Blasts. These targeted Email Campaigns are sent to over 7,000 BOTX members. With the Holiday season quickly approaching, this form of advertising is perfect for spreading the word about a Thanksgiving special or Christmas sale. The company also provides the businesses valuable statistics regarding their email campaign, including how many members opened it, the click-through rate (CTR) and how many people forwarded it to a friend. BOTX averages a CTR of 12%- incredibly high when compared the industry standard of 1%.
With other forms of advertising offered by BOTX, including Flash Ads, Banner Ads and Newsletter Sponsorships, there is no way businesses cannot be seen by their customers this Holiday season. It's just a matter of choosing which options will work best for the businesses and the consumers. You can find out more information regarding advertising through BestofTexas.com by viewing their Media Kit or by calling BOTX at (469) 467-4601 for a free consultation.
About BOTX:
BestofTexas.com provides local residents and travelers to Texas a one-stop source for the most up-to-date information and user reviews on events, businesses and services - from dining to professional services and everything in between. BestofTexas.com is not just another online information provider - they're a lifestyle provider. Membership on BestofTexas.com is free. For more information regarding advertising and membership with BestofTexas.com, visit http://www.BestofTexas.com.
Contact
Ashley Wicks- Director of Marketing
(469) 467-4601 Office
(469) 682-4012 Cell
(214) 273-6470 Fax
Ashley.Wicks @ BestofTexas.com
###