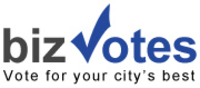 Gone are the days where a business can just self-proclaim they are the best
Amarillo, TX (PRWEB) May 12, 2008
Recent research shows that people tend to strongly trust information from those they consider to be like them (such as friends, family, neighbors, etc.). It's also no secret that word-of-mouth marketing is one of the best ways for businesses to bring in new customers. The April launch of BizVotes.com, a new service where consumers can rate and write reviews of local businesses across the US, offers a hybrid of the two: both a consumer research tool and marketing platform for businesses, all while facilitating two-way communication between local businesses and their customers.
Open communication and Web-based conversations have become vital elements of the surge in social media. The potential for this interaction on the Web has led to an increase in "social consumerism" in recent years. From online product reviews to company blogs, consumers now have the ability to interact with companies publicly, making suggestions, complaints, or offering praise and recommendations.
At the same time, sites like Digg allow the average Web browser to vote on important news stories and what's promoted. BizVotes.com combines the two, allowing customers to quickly vote for businesses they've had a pleasant experience with, whether or not they want to invest more time into writing a detailed review.
"Gone are the days where a business can just self-proclaim they are the best," says Richard Parker, Founder and CEO of BizVotes.com. "If a business takes care of its customers, it will naturally rank well at BizVotes. We aim to put the power back in the consumers' hands, as their votes expose the truly best businesses in their local city or town."
BizVotes.com is a free site, and unlike many websites involving businesses, the site's allegiance is with the consumer. Businesses listed at BizVotes.com cannot buy additional votes or preferential placement. The database currently contains approximately ten million businesses, and consumers or business owners have the ability to add listings for businesses not currently included.
Businesses can encourage customers to vote at BizVotes.com by including one of the available BizVotes buttons on their website (buttons can be found by browsing to the business' listing page). The service also offers email tracking alerts, allowing businesses to subscribe and receive updates if someone edits the business information or makes a new comment on the business. This allows businesses the opportunity to correct any errors in contact information, as well as giving business owners a chance to participate in a two-way discussion to address complaints or suggestions.
For more information about BizVotes, please visit BizVotes.com or contact Richard Parker.
Contact
Richard Parker
BizVotes.com
Phone: 650-641-2211
Email: press(at)bizvotes.com
Web: BizVotes.com
###